Nokia E61 smart phone
The Finnish firm's would-be BlackBerry beater
This is very poor stuff, particularly for a business-oriented handset. It's also a real shame. Nokia's web browser works well on the E61's screen, and I found myself taking to its thumbnail-based page navigation system: start scrolling and up pops a tiny version of the webpage to help you move around it. Pressing the Back soft menu brings up a set of page thumbnails to make it easier to go straight to the page you want without having to render all the intermediate pages. Web allows you to zoom out from webpages as well as reduce the text size, making it easy to find a still-readable size to minimise scrolling.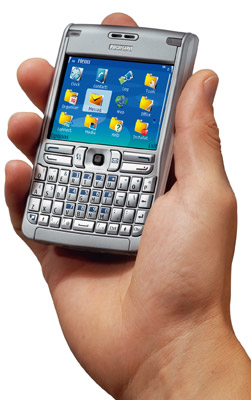 But yes, it is buggy, particularly when it comes to maintaining and initiating connectivity, and after long surfing sessions you will run out of memory, even though the E61 has plenty - up to 64MB. I also found Messaging would lock-up remarkably often, which meant even more restarts, grrrrr.
Nokia's office tools are adequate, but at a stage DataViz' Documents To Go app - created to view and later edit Office files on Palm devices - reached two years or more ago. Formulae results are not displayed in situ, for example, and the code will zap your formatting.
As a phone, the E61 rates highly - I found its call quality to be very good and generally got a decent signal strength wherever I went. The battery life's not bad either. I charged the E61 up on Friday morning and didn't need to do so again until Monday evening, despite pretty intensive usage in between.
While I would have preferred an externally accessible MiniSD card slot, and I'd have liked to have been able to use a BlackBerry-like jogdial or scrollwheel, I'd still say the E61's design is excellent. The screen is superb and the keyboard a pleasure to use. Bluetooth works well - I found I could maintain my Jabra X10 earpiece connection while syncing the handset with another Bluetooth device.
That said, once or twice, the Jabra was spontaneously disconnected, only to reconnect a few seconds later. I've used the headset with other devices but never witnessed this behaviour.
In its favour, the E61 is relatively cheap. Expansys, which kindly supplied our test unit, wants £260 for it, which is a lot less than many of the better 3G-enabled Windows Mobile 5.0 devices on the market. But that's the SIM-free pricing - buy any of them from a carrier and you'll pay a lot less.
Speaking of 3G, what about the E61's UMTS support? I also tried the handset with a Vodafone data-only 3G SIM. It worked reasonably well - as did GPRS, incidentally - but clearly isn't as fast as WLAN, which makes the poor Wi-Fi support so galling. The E61 isn't an HSDPA device, so if you want fast internet access on this device you must connect to a hotspot. If you can...
Verdict
I ought to like the E61 more than I do. The screen is superb and the keyboard likewise. Size apart, it's a good mobile phone. GSM, GPRS and 3G connectivity are good, and for a smart phone the three-day battery life is remarkable. Against these advantages, you have to set the poor, overly complicated Wi-Fi implementation, and the occasional restart requirements, though I believe they're ultimately result from WLAN usage. Ignore that, and the E61 becomes a decent proposition. But not one RIM need lose any sleep over. ®

Nokia E61 smart phone
Poorly implemented Wi-Fi hinders Nokia's take on the BlackBerry...
Price:
Unlocked: £260 inc. VAT. Carrier price depends on contract RRP