Nokia E61 smart phone
The Finnish firm's would-be BlackBerry beater
The E61's pitched as a messaging device, so let's look at the Messaging app. As Reg Hardware's review of Nokia's E70 noted, Messaging has barely changed through the years - much like all the other S60 apps. Certainly, it didn't feel any different from the version running on my old Nokia 6600. The E61's large display makes working with email much easier than it is on the E70. You can't adjust or re-order the columns, but at least the list of emails is a darn sight easier to read than it is on Nokia's smaller-screened devices.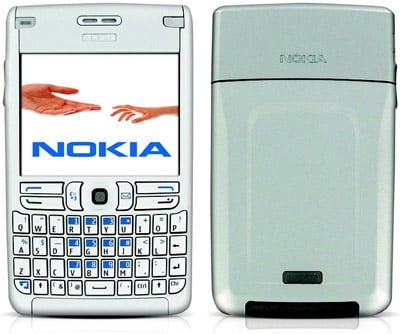 Incidentally, not every Nokia app works this way. Remember the 'Connect.' folder and 'Availab. WLAN' menu option I mentioned before? The full-stops indicate a truncated word. They're cut short because on older Series 60 displays they won't fit. Fine, but on the E61 there's plenty of space. Why didn't Nokia hasn't made full use of it? An S60 limitation, presumably - or it simply couldn't be bothered to recode the apps' strings for this device. Either way, it's a poor result.
Back to Access Point Groups. When you set up a mail account, you can specify a group to use, and the Messaging application will indeed run through each connection until it finds one available to access. This, like writing and receiving emails themselves, works fine. The trouble is, it takes an age to set up, and like as not you'll have defaulted to one connection for email and another for web use before you figure out you can group these connections together to ensure the E61 takes advantage of the best connection available in a given location.
And then you find Nokia's web browser, unlike Messaging, doesn't support Access Point Groups. You set it to operate on a specific Access Point, which means that you have to change it whenever you enter a new wireless network, if that's the method by which you're connecting. Or you can simply have it pop up a list of Access Points - not, you'll note, pre-crosschecked for availability in your location - and choose one.
Oh, and there are two copies of the browser on the phone, one called Web, the other branded Services and used by some apps to process URLs, like ones embedded in emails. They don't share settings files, so you'll have to do the set-up all over again...
Using Wi-Fi on the E61 isn't difficult but it could certainly be easier - this is one area where Nokia could learn a great deal from Windows Mobile 5.0. But maybe Nokia simply doesn't want you to use Wi-Fi. Don't blame the carriers - after going through the song and dance you need to perform to get connected, I found the E61's WLAN support to be largely not worth the effort.
At home, for example, I was frequently unable to get the E61 to talk to the internet. I tried it in a variety of locations all of which have proved connectable using a range of devices, including all the HTC-made Windows Mobile devices I've used. When double-checked, the E61's WLAN sniffer showed my network's presence with a full, three-bar signal strength, but the Messaging and Web apps couldn't or wouldn't connect. Often when I did manage to get a connection, it would be lost later, a victim, I think, of the systems power-saving system. Quite often the apps wouldn't reconnect correctly, at least not without shutting down and restarting the app. Sometime I had to restart the E61.