Separated at birth: Maxfield debuts Mcody M20-like MP3 player
Will LG sue?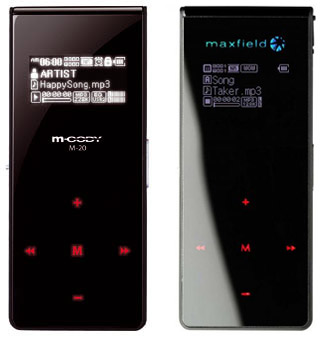 German digital music player maker Maxfield has begun touting its Max-Sin Touch MP3 player ahead of the device's debut at the IFA show in Berlin next month. The snag: it's the same device the UK reseller Advanced MP3 Players unveiled earlier this month as the Mcody M20.
Yes, Max-Sin is the same all-black gadget reminiscent first of 2001: A Space Odyssey's monolith and then, on closer inspection, of LG's Chocolate phone.
As we said of the M20, the Max-Sin weighs a mere 31g and is just 7.5mm thick, a whole half a millimetre thicker than the Nano, but who's counting when the player squeezes in an FM radio, voice and line-in recording, SRS WoW and TruBass sound enhancement and, for the Linux boys, Ogg audio support.
The M20/Max-SIn also plays MP3, WMA and WAV files. There's no video or photo support: the M20's 128 x 64 white-on-black OLED screen's not really up to that. It will be available with 1GB of Flash storage. ®
Sponsored: RAID: End of an era?