Slim Devices Transporter high-end digital audio player
Audiophile device transports music to a new level?
As can be seen from the photos, it's all there and (almost) working. The music quality is vastly improved when played through a sensible, audiophile system. The twin 320 x 32 vacuum fluorescent displays - the same as the Squeezebox's screen - make navigation very easy while allowing for special effects like two single-channel VU meters, one for the left speaker, the other for the right.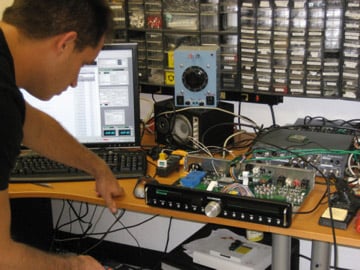 The unit has built-in 802.11b/g Wi-Fi and 10/100Mbps Ethernet. It will decode and play streamed WAV, AIFF, MP3, WMA and FLAC files, with other formats supported by on-the-fly decoders running on the computer hosting the music. As with the Squeezebox, there's no support for WMA DRM files or songs downloaded from Apple's iTunes Music Store.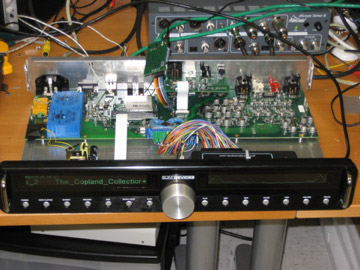 There are still a few bugs but these are being worked on, Slim Devices said. The remaining issues are mainly cosmetic - though it is still possible to crash the unit. The audio quality is constantly being improved along with usability, but it sounded pretty good when I sampled it.
Playing audio streams which were encoded in a lossless format - WAV, FLAC and Apple - shows the transparency of the Transporter. Any sounds in the original recordings are faithfully reproduced. Playing badly encoded or low bit-rate MP3s shows just how badly encoded they are. This is an audiophile system and demands a high quality amplifier and speaker system to make the most of it - if it's going to be used with an iPod-type speaker system get a Squeezebox instead.
Though the Transporter does have a digital output stage, it's almost a waste as the DACs and analogue output are so well engineered and such a huge amount of effort has been put in to get that sounding just right. The digital outputs are exceptionally clean and will probably outshine any other digital device in a home set-up.
Verdict
Slim Devices' Transporter looks good and sounds great. It's not for everyone - if your digital music collection consists entirely of 128Kbps MP3s, you're going to hear why audiophiles prefer lossless music formats. But if you're the proud owner of a hi-fi that cost more than a small car and you're ready to archive your music collection to computer, Transporter should be at the top of your list of equipment to audition. ®
Sponsored: Minds Mastering Machines - Call for papers now open

Slim Devices Transporter high-end digital audio player
Stylish looks and audiophile sound quality - and it's not even finished yet...