Flight delayed by terror alert? Watch World Trade Center
A Yahoo! News top tip
You know how it is - you're at Heathrow en route to New York when an announcement comes over the Tannoy that some blokes have been arrested for buying three cans of lighter fluid in one go at their local corner shop and, accordingly, the entire UK is on Defcon al-Qaeda/Taliban Critical Red and you'll have to wait three days in the airport before being allowed onto a plane in nothing more than your underwear having been biometrically swabbed, packed through a millimetre-wave body scanner and relieved of your toothpaste.
So, what's the best way to pass the time while you consider how close you came to fiery airborne death? Just hit the Yahoo! News website where its contextual advertising machinery can offer the perfect solution: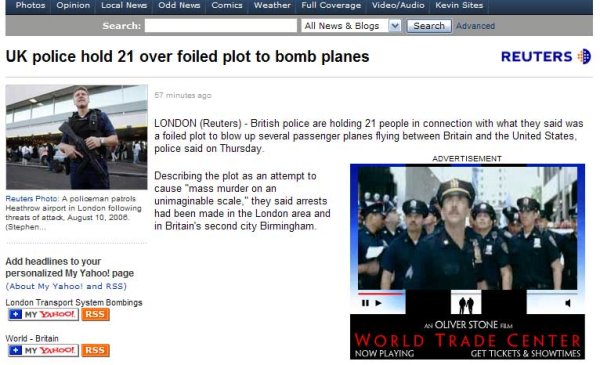 Yup, and if you're still twiddling your thumbs, try Airport '75 (tagline "Something hit us... The crew is dead... Help us, please, please help us!") or Airport or even Airport '77 and, just before finally boarding your flight, Alive. ®
Sponsored: RAID: End of an era?