Fujitsu Siemens Pocket Loox N100 handheld GPS
A serious contender for the established players?
Trying the N100 brought me my first opportunity to play with Navigons' newly released MobileNavigator 6. It has produced a very polished product. From the animated slide-out menus to the semi-transparent on-map points of interest with simulated drop-shadows it all looks very slick. Of course, all the stock options are present and correct, including off-line route planning with multiple waypoints; creation and naming of favourite destinations; and user-defined routes. You also get features like 2D and 3D mapping; a manual night colour option with user definable backlight intensity; automatic route recalculation; and avoidance of variable-length stretches of your current road. That said, there's apparently no way to tell the gadget to avoid other roads by name.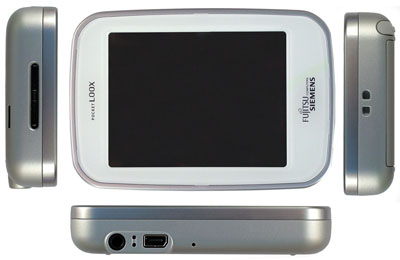 The more innovative additions include lane assistance, which indicates the suggested lane or lanes for your next manoeuvre, a function I've yet to see in action in my particular rural backwater. The N100 also provides TMC traffic warnings, along with voice-activated navigation using the voice tag technique common to mobile phones and first seen on Novogo's V30. There's also quick access to user-defined points of interest from the new destinations menu, allowing you quickly to pinpoint, for example, nearby petrol stations from your current location.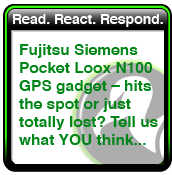 An integral multi-format music player with support for MP3, AAC and WMA formats offers basic play and repeat functionality, either over the internal speaker or, for better quality, through the supplied earphones. There's also a world clock utility with a full-screen display option and alarm, along with a calculator and a couple of classic retro games: Pac Man - here renamed Smart Pixie - and a version of Breakout imaginatively titled Bricks. Frustratingly, although you can have the music player operating while you navigate, it doesn't automatically mute before delivering spoken commands, rendering them just about inaudible.
One notable omission is the ability to import custom points of interest, and of course I'm thinking of speed-camera locations in particular. This is likely to be an increasingly important buying decision when comparing the N100 with units that come with speed camera data already built in.
Verdict
Speed cameras aside, Fujitsu Siemens' Pocket Loox N100 performed like a charm. Route selection has so far proved to be prudent and despite the occasional stutter, the software looks good and feels responsive. Since the N100 will make it to store shelves bearing a price tag of around £250 it should be a phenomenal success even without the speed-camera data. The N100 is small and stylish but doesn't compromise on performance to achieve it. One for tech-heads and hardened travellers alike. ®
Special Offer for Reg Hardware readers - buy the Pocket Loox N100 for £224.99 (10% off) at Nice PC
Sponsored: Minds Mastering Machines - Call for papers now open

Fujitsu Siemens Pocket Loox N100 handheld GPS
This GPS gadget's smart and stylish - and, at the price, it's a steal...