Turning Che Guevara into a GIF for therapy
Or how I deal with Bro-Magnon Man
RIAA - Really Inadequate Adolescent Aggregator
I used to think of the RIAA as just about the classiest organization around until this month.
First off, I learned that one of the alleged file-traders the RIAA was pursuing recently passed away. Rather than keeping its guns blazing, the RIAA gave the alleged file-trader's children a 60-day "grieving period" before it deposed them.
I'm sorry but the rest of us tax payers don't have time for grieving. Let's keep these lawsuits churning through the courts, people.
Secondly, I'm hearing that the RIAA is failing to cash in on its wins.
Chicago attorney Charles Lee Mudd - the name speaks for itself - has been fighting the RIAA for years and recently issued a press release saying,
Individuals who have settled with the Recording Industry Association of America (RIAA) beware. The RIAA either has developed a new tactic of harassment or has failed to conduct due diligence in maintaining its records of those individuals with whom it has settled. In short, the RIAA, through its most recent national counsel Holme Roberts & Owen LLP, has begun to issue threatening letters claiming never to have received settlement funds from those who paid the RIAA's former counsel nearly three years ago.

Evidently, from my observations over the past three years, the RIAA does not care about due diligence. It fails to investigate the individuals whom it has sued prior to imposing extortive settlement demands. It does not care about families' mitigating circumstances. It fails to recognize when it has sued the wrong individuals. It seeks what constitute unconstitutional statutory damages. And now, it obviously fails to care whether it has received and deposited settlement payments before sending threatening collection notices to individuals who have previously settled with it.
I'll shed a tear after I'm done running over my dog.
Hey, Mudd. You sound like "I've been pouring kerosene on myself and setting myself on fire" serial whiner Patrick Byrne.
Get your act together, RIAA. Cash those checks!!!
All RaQed up
It's not all negativity this week in the Stern household.
We'd like to congratulate Cisco Systems for putting Tony Blair in his place.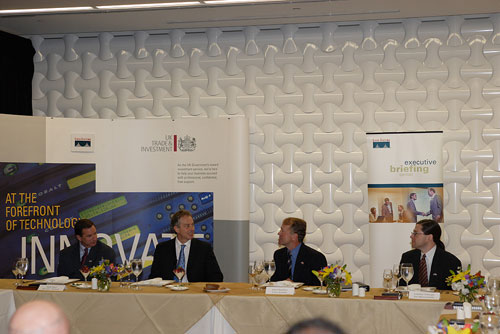 HP's Hurd, Blair, Cisco's Chambers and Sun's Schwartz
Cisco managed to slot its logo just a few hairs above Her Majesty's Seal, during a recent conference. Some would characterize this as a diplomatic blunder of immense proportions. I consider it a wonderfully concise gesture.
Also, please notice the Cobalt RaQs on the sign reading "At the Forefront of Technology." Too bad Sun stopped selling RaQs years ago. The IP address on the system in the poster does, however, still work.
Thanks for listening. I'm off to play with Che. ®
Otto Z. Stern is a director at The Institute of Technological Values - a think tank dedicated to a more moral digital age. He has closely monitored the IT industry's intersection with America's role as a world leader for thirty years. You can find Stern locked and loaded, corralling wounded iLemmings, suppressing Bill Gates U, developing strong Mexican engineers, masticating beta culture, booing our soccer team, following Jimmy Wales, nursing an opal-plated prostate, spanking open source fly boys, Googling Bro-Magnon Man, wearing a smashing suit, watching Dead Man, dropping a SkyCar on the Googleplex, spitting on Frenchmen, and vomiting in fear with a life-sized cutout of Hilary Rosen at his solar-powered compound somewhere in the Great American Southwest.
Sponsored: Minds Mastering Machines - Call for papers now open