Imagine Italy winning
First the World Cup, now the Imagine Cup
Well, the judges have spoken and the results are in, and the winners of this year's Imagine Cup are….Italy.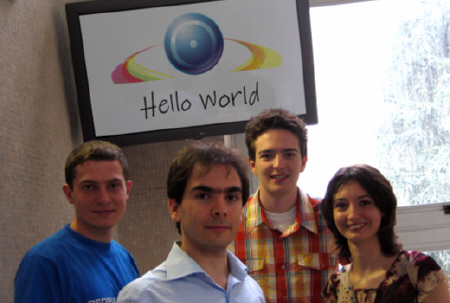 To be precise, the winners of the Software Design section of the event, in which the UK's Team Three Pair were a contender, are the Italian students, Team Even .ctor, made up of Giorgio Sardo, Massimo Paternoster, Silvia Perrone and Andrea Sossich.
Their winning entry which, like all the others had to address the issue of helping people live healthier lives in some way, was called `Hello World'. Strangely, information is limited on what it actually does, though the Imagine Cup website states that it was created `to improve the relationship between medic and patient, supplying the doctor with important information often left out by the patient, whether because he is not able to report them or he doesn't consider them significant. Hello World makes it possible to correlate psychophysiological aspects with the context in which they were actually collected. This new approach will offer a revolutionary tool to people who have to propose therapies for memory-related or stress-related pathologies like anxiety disturbances'. Sounds like a good talking to followed by a large whisky.
As usual, the Imagine Cup consisted of several different competitions, so here is the full list of winners and runners-up.
Software Design: 1st place: Italy. Even .ctor: Giorgio Sardo, Massimo Paternoster, Silvia Perrone and Andrea Sossich 2nd place: Brazil. Team Trivial: Carlos Eduardo Monteiro Rodrigues, Ivan Cordeiro Cardim and Madson Menezes Costa 3rd place: Norway. Team NTNU, Jan-Kristian Markiewicz, Gøran Hansen, Hans Olav Norheim and Jonas Follesø
Algorithm 1st place: Poland. Piotr Marek Mikulski 2nd place: Poland. Przemysław Dębiak 3rd place: Poland. Tomasz Blajek
IT 1st place: Austria. Andreas Tomek 2nd place: Romania. Valerica Greavu-Serban 3rd place: France. Daniel Boteanu
Short Film 1st place: Canada. Team Forest: Sam Chow, Nick Haffie-Emslie, Ryan Marr and Meg Mejewski 2nd place: Poland. Team Skylined: Jacek Barcikowski and Julia Górniewicz 3rd place: USA. Team LCL: Scott Lynch, Zach Lynch and Cam Crosson
Interface Design 1st place: Brazil. Team Virtual Dreams: Roberto Sonnino and Eduardo Sonnino 2nd Place: China. Team Frontfree Studio-MISG: Wang Guojing and Sang Yingshuo 3rd place: India. Team Avengers: Mohit Bhargava and Mitushi Jain
Project Hoshimi (Programming Battle) 1st place: France. Team Atomnium: Manon Gaucher and Flavien Charlon 2nd place: Republic of Serbia. Team R.A.F: Igor Kabiljo and Uroš Rajkovic 3rd place: France. Team Lya: Laure Portet and Régis Hanol. ®
Sponsored: Minds Mastering Machines - Call for papers now open