FSP Booster X3 GPU-friendly power supply
Some extra juice for your graphics cards
Review Upgrading your PC? Want to fit two graphics cards, but you don't have a powerful enough power supply? Well, PSU-maker FSP may have just what you need. The Booster X3 is a supplementary PSU that slots into a 5.25in drive bay and is used exclusively to power your PCI Express graphics cards...
The X3 is about the size of a standard optical drive and has a black front bezel with a clear plastic cover. The cover lights up in blue once you power on your PC. Behind the bezel are two 40mm fans that cool the innards of the PSU. This means there's a certain amount of noise and this will be facing you if you sit your system on a desk. That said, if you've got a CrossFire X1900 pairing in your PC, it's likely that the graphics cards will be noisier than the X3 and drench any noise from it when you're playing games.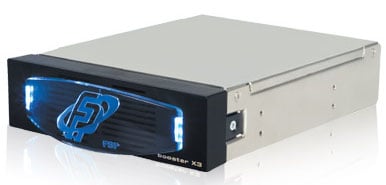 At the rear of the X3 you'll find three connectors: a two-pin power connector (the kind of thing you connect to notebook power bricks), a four-pin Molex connector and a 12-pin proprietary PCI Express graphics card power connector. The two pin-power connector connects to your mains supply, which might sound difficult given that the X3's mounted inside your PC. Don't despair - FSP has supplied a very neat pass-through cable that fits in an empty slot in the back of your PC. This connects to the X3 inside the PC and to a standard two-pin power cable in the back.
You also have to attach a four-pin Molex connector from your PSU to the X3, as this is used to power it on at the same time as you switch on your computer. Finally, the 12-pin connector is for a custom-made cable that has two six-pin PCI Express graphics card connectors at the other end, one for each card. It really couldn't be much easier to hook up the X3 and it doesn't take a lot of effort to get it going.
The PSU inside the X3 has active PFC, and FSP claims that it has up to 85 per cent efficiency. It will output a constant 300W but the peak output is higher. It has two dedicated 12V rails, according to the specs, which means each graphics card should be able to draw a stable 150W from the X3. This is the real advantage over your normal PSU, although this isn't really an issue if you've already got a good-quality PSU these days. However, with evermore power hungry graphics cards, this might be the way high-end gaming PCs will have to go: a dedicated PSU for the graphics cards.
There was no problems powering a pair of X1900 cards in a CrossFire setup, one of the more power hungry card configurations around. However, there should be more than enough juice in the Booster X3 to power even a pair of Nvidia GeForce 7950 GX2s without a problem, considering that it is only powering the graphics cards and nothing else inside your PC.
The downside of the Booster X3 is the retail price. At £61 it's far from cheap, especially when you consider that you can get an 600W PSU from the same maker for a smidge over £86, and it has more than enough power to cater for your whole PC - unless, of course, you're using a pair for GeForce 7950 GX2 cards.
Verdict
The FSP Booster X3 is a clever add-on if you've got an older PSU or you're using a pair of really high-end graphics cards and want to make sure there are no power issues. It's quite expensive for what it is, but it's easy to install and does exactly what it's supposed to do. ®
COMMENTS
For Colin.
Yo Colin.
If you ride a Ferrari, doesn't that engine get hot in the process of burning rubber? Doesn't it drink petrol like a thirsty Irishman while getting as many horsepowers out of the machine as the manufacturer put in?
Even energy efficient cpu's still need a huge fan. Video cards have a tiny little windblower to cool its gpu...
Nah, just kidding. I agree. It is time for the graphics card industry to shift focus and work on cards with lower power consumption.
I do believe in the future we will look back and laugh at methods to cool our power hungry cutting edge hardware.
Soon; No fans and no power consumption. Great!
Love,
Martin (in China)
Graphics card power. Where will it all end?
Am I the only person in the world who has a big problem with the amount of power that the latest graphics cards are using? Whats the point of having low power CPU's like AM2 Athlons and Intel Core Duo's if the latest Graphics cards are going to help push the world into Global Warming oblivion anyway? Have graphics card manufacturers not thought about power comsumption and energy prices?
Colin.