Sony Ericsson M600i smart phone
Sony Ericsson challenges RIM's BlackBerry
Using the M600i as a phone is a rather strange experience, as you end up using the touch screen most of the time. Sure, the stylus is pretty good - it's located at the top left corner - but it's annoying not having call-make and call-break buttons. It's quite frustrating having to tap the screen all the time to get into your contacts and to initiate and end calls. There's plenty of space just below the screen where three soft-menu buttons could have been placed to correspond to the three options that are listed on the default menu screen. This would've made it much easier to use the M600i without having to use the touch screen all the time.
With the new scroll wheel, it's not as easy to navigate the M600i's menus as it was with the P910i. There was also lag using the scroll wheel on the main screen, as the text wouldn't appear until you've already moved past the icons you didn't want. This is a minor issue, but it makes you wonder how much extra processing power the M600i has.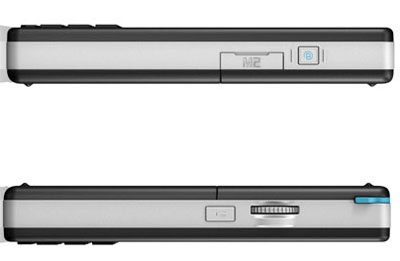 However, once you've fired up an application there are no noticeable slowdowns, so this seems to be related to navigating the menus and might be something that Sony Ericsson will fix in a future software release. The good news is that the M600i, as with previous UIQ devices from Sony Ericsson, can be updated over the internet, so you don't have to send it off to a service centre.
It's really disappointing that Sony Ericsson didn't fit Wi-Fi to the M600i as a device like this is made for wireless networking. Unless you&'ve got a genuinely unlimited 3G data tariff, you're likely to miss the lack of Wi-Fi, but the M600i is really fast in 3G mode, although it doesn't support HSDPA, but it will fall back to GPRS if there's no 3G coverage. It also Bluetooth with A2DP support, so it can be used with stereo headsets.
You can select to view the main menu as a grid - much like any other Sony Ericsson phone - or as a list like the P900s present. The standard menus are the same as those you'll find on most Sony Ericsson phones as well, with the possible exception being the Office menu. By default the M600i doesn't come with a wealth of applications, but you do get a version of Opera built in, which is the main web browser. You also get Quickoffice which allows you to access and edit Word, Excel and Power Point documents. There's also a PDF viewer and a basic notepad application.
Useful things such as a calculator, a multi-format unit converter, timer and stopwatch also come as standard, as well as a media player and an RSS reader. Two games are also included: Vijay Singh Pro Golf 2005 3D and QuadroPop.