Sony Ericsson M600i smart phone
Sony Ericsson challenges RIM's BlackBerry
On the top of the phone is the power button, which also allows you to put the phone in flight mode. The infra-red (IrDA) receiver is also located here, right next to the power button. On the right-hand side is a small button labelled with an @ sign. By default this will launch the web browser, but this can be changed. Just below this is the memory card slot, which accepts the new M2 - aka MemoryStick Micro - format. It's very difficult to insert and remove the memory card as the slot has a cover that doesn't open very far. A 64MB M2 card ships with the M600i as standard and you should be able to pick up a 512MB card for around £25.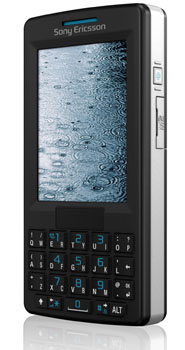 At the bottom of the M600i is the latest generation of Sony Ericsson data/charger connector, and a USB cable as well as a travel charger is supplied with the M600i. However, the M600i doesn't charge over USB, which I think is a major omission, as it's the ideal way to charge your phone if you have a notebook with you.
By now you're probably wondering about the camera. Well, there isn't one. The M600i is a business device and as such doesn';t need a camera, or at least that appears to be the reasoning behind the omission. It also cuts cost, which might not be a bad idea. What the M600i does have around the back is a rather loud speaker.
At 10.7 x 5.7 x 1.5cm and 112g, the M600i is quite wide, but thin, so it fits neatly into most pockets. The problem is that the screen tends to pick up quite a bit of sweat on a hot day when you hold it to your ear for any length of time, but this is a common problem for PDA-type phones. The 2.55in, 240 x 320 screen is quite bright, easy to read and can display 262,144 colours.