Logitech revamps wireless music kit with full remote control
Four-room ready too
Mouse-maker Logitech has souped up its Wireless Music System PC-to-stereo link-up set, adding a slick screen-equipped remote control to the rig and fitting the hi-fi hook-up end with a docking cradle for the remote.
Dubbed the Wireless DJ Music System, the set also includes a USB-connected wireless adaptor that transmits songs sent out by Logitech's StreamPoint software. The app grabs suitably formatted - and DRM-free - songs and internet radio streams from users' iTunes, Windows Media Player and/or Musicmatch Jukebox libraries.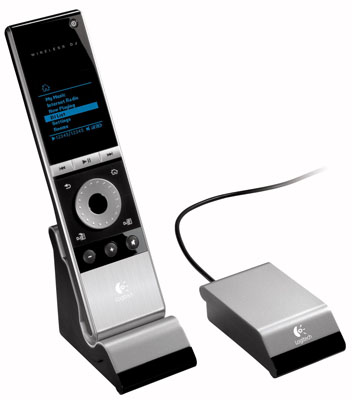 The transmitter can beam the MP3, AAC or WMA tracks to a hi-fi-connected receiver up to 50m (150ft) away. The remote sends instructions directly to StreamPoint, so it doesn't require a line of sight to the receiver. Logitech didn't say what wireless technology the DJ Music System uses, beyond noting it operates in the 2.4GHz band. The older Wireless Music System product used Bluetooth.
The remote provides full access to the unified music library StreamPoint provides. It also allows you to create on-the-fly playlists. The system supports multiple receivers, allowing you to redirect the single audio stream to different rooms as you walk through them. Unlike more sophisticated multi-room rigs like Sonos' Digital Music System, you can play music from only one source. You're also limited to four receivers per transmitter/remote.
The Wireless DJ Music System goes on sale in the US and Europe at the end of September. The basic set costs $250 (£131/€195), with extra receivers coming in at $80 (£42/€62). ®
Related reviews
Sonos ZonePlayer ZP80 and digital music system
Slim Devices Squeezebox 3 network music player
Logitech Wireless Music System for iPod
Logitech Wireless Headphones for iPod
Sponsored: Minds Mastering Machines - Call for papers now open