Elonex creditors back administration
Unsecured creditors will get less than 20 per cent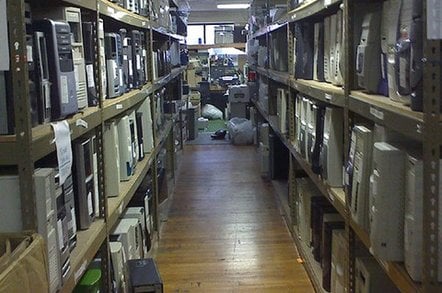 Administrators for the defunct PC maker formerly known as Elonex Plc* held a meeting for creditors yesterday in London.
The British PC sales arm of Elonex went down owing over £17m in June. At its creditors' meeting, trade creditors holding about £1.4m of Elonex debt voted to accept administrator Deloitte & Touche's proposals that it proceed with the administration.
Combined Elonex group companies - sister firms to the defunct British arm - were the largest creditor when the firm went into administration.
Unsecured creditors can expect less than a 20 per cent dividend from the administration, it was estimated in the Director's Statement of Affairs in the creditors' report.
Of £10.8m owed to unsecured, non-preferential creditors at the time Elonex Plc went into administration, £5.1m was owed to Elonex companies. Elonex IP, a Dutch firm in the group, was owed £4m from a loan. Elonex Holdings, the ultimate parent company of Elonex Plc and a firm registered in the British Virgin Islands, was owed £1.1m for another loan.
This was even more money than owed to the one secured creditor, Waterloo Properties Limited, a firm that acquired Elonex's debt with its bank, HSBC, in the days before it went into administration.
Waterloo was described in the creditors' report as a firm connected with Elonex's shareholders.
The Register understands that Elonex directors Gideon and Israel Wetrin hoped the Waterloo intervention would mean a greater return to unsecured creditors. Rather than risk the appointment of an administrator by an unrelated creditor, whose only concern would be to realise that creditor's debts, they arranged for one that might squeeze more value out of the firm's assets.
Within days, Elonex had gone into administration and Waterloo was pressing the administrator to let Elonex continue trading and be sold as a going concern. Deloitte, however, found the costs of sale were too high for it to be worthwhile.
Elonex's directors expected Waterloo to realise all £5m it was owed from the administration. This would be funded from the sale of properties over which Waterloo acquired security from HSBC.
Of the unsecured debts, £4m was owed to trade creditors, £0.7m owed to the Crown, and £354,000 to staff.
The directors expected a total of £2.7m to be put towards servicing unsecured debts. Most of this would come from trade debtors. Of £1.8m owed by debtors, £1m was expected to be recovered. Stock would be written down substantially from £2.9m to an expected £660,000.
Another big write-down was on money owed by Elonex France SAS, which had been a sister company of Elonex Plc. French debts of £4.6m were expected to realise £125,000. The Register understands these to be debts accumulated over a period of about 10 years to 2005, during which time Elonex France was buying PCs from the UK.
The most substantial items on Elonex Plc's summary of assets were its properties, which were expected to realise £1.8m more than their book value, at £5.9m. This would cover Elonex's £5m secured debt with Waterloo, while contributing £0.9m for unsecured creditors. ®
* The administrator has changed the name of Elonex Plc to ELX Realisations Plc, to protect the firm's brand, which has been sold, along with its sales, marketing and warranty business to a company associated with Afic, a printer cartridge and stationery supplier. The assets purchased by Afic are trading under the name Elonex Limited, which is no relation to Elonex (UK) Limited, the UK registered parent of the former Elonex Plc and other Elonex group companies.
Sponsored: Minds Mastering Machines - Call for papers now open