Acer Ferrari 5000 dual-core AMD laptop
No driving licence needed, but only Tifosi need apply...
The 5000 is one of a small group of notebooks to offer HDMI output with HDCP content protection. The HDMI connector replaces the DVI connector on the previous generation of Ferrari notebooks, so if you want to connect the Ferrari 5000 to a DVI display, you'll have to use an HDMI-to-DVI cable - fortunately, Acer bundles one. One of these cables is likely to set you back around £20 otherwise. There's still a VGA connector for connecting to analogue sources as well as s-video output.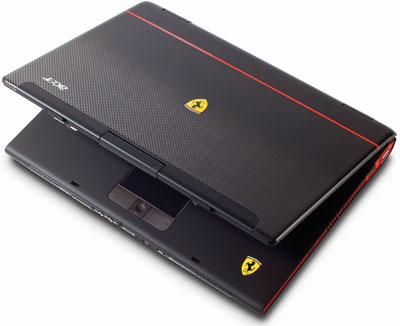 Although the review model only featured a slot-load DVD super-multi dual-layer drive, Acer will be offering an HD DVD-ROM drive in the future. It's unclear from the current information if the HD DVD-ROM drive will support any type of writeable media and Acer hasn't stated a date when they will ship with the Ferrari 5000. So for now you're stuck with a multi-format DVD writer from Pioneer that supports just about every writeable DVD format on the market.
The hard drive is a SATA model from Seagate with no less than 160GB of space. This should be more than plenty to use the Ferrari 5000 as your main computer, just make sure you have some kind of external backup solution handy, as it's not practical to back up 160GB of data onto DVD media. Acer has also fitted a multi-format memory card reader which accepts MMC, SD, xD, MemoryStick and MemoryStick Pro cards.
Acer has fitted a PC Card slot as well as an ExpressCard 34 - that's the slim version - slot to the Ferrari 5000, which means that you can use a 3G data card as well as future ExpressCard devices with it. A total of four USB 2.0 ports are available, two on the left and two on the right hand side. A four-pin FireWire port is located on the front right next to the IrDA window, the Bluetooth and Wi-Fi switches as well as three audio connectors. One slight miss here is that you can't connect a set of analogue 5.1 speakers to the Ferrari 5000, as the audio connectors have fixed functions. The headphone socket doubles up as S/PDIF output which allows you to get HD quality audio output via an amplifier. Finally, there's integrated Gigabit Ethernet and a 56kbps modem.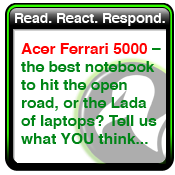 The integrated Wi-Fi card supports 802.11a/b/g, so it's compatible with all common standards. If you're using some kind of proprietary speed-boosting technology, such as pre-n or some kind of turbo setting, you'll have to make sure it's compatible with the Atheros Super G 108Mbps chip in the 5000. Bluetooth 2.0 with EDR is supported, and Acer ships a Ferrari-branded version of its PC Card-style Bluetooth VoIP handset. You also get a Ferrari-branded Bluetooth mouse as part of the package, although I wasn't able to get this to connect properly to the review machine. The mouse comes with rechargeable batteries charged using a special USB cable.
Acer has also fitted a web camera to the Ferrari 5000, which takes 1.3 megapixel still images and can be rotated to face away from the user. However, the camera on the review unit didn't appear to work properly, but it appeared to be software rather than hardware problem, so hopefully this is something that will be fixed on production models.
So too will the slightly small Enter key, I hope. I've always been a big fan of the slightly curved keyboards that Acer have used on some of it's models and the Ferrari 5000 features one of these. The touch pad is "widescreen" to match the display and worked quite well. Acer has fitted a four-way navigation pad in the middle of the two standard buttons that works much in the same way as a scroll wheel on a mouse. I also like the rubberised surface around the keyboard, as it's quite comfortable to hold your wrists on, compared to normal plastic.