Back from the dead, Silicon Valley icons hitchhike across the US
Believe it when you GPS it
See De Forest for the Audion
Some Silicon Valley aficionados will bristle at the notion of labeling Lee de Forest a "Father of Silicon Valley." After all, he did not contribute to the computing industry in the most direct fashion.
This import arrived in Palo Alto around 1910 to work for the Federal Telegraph Company. At the time, Silicon Valley was known as the Valley of Heart's Delight as a result of its bountiful lands. Orchard after orchard dominated the area that now plays host to suburban houses, business malls and shopping centers.
De Forest, however, ignored the fruits and tapped into a budding electronics community. Many radio enthusiasts had found their way to San Francisco as a result of the region's maritime traditions. Sailors were quick to embrace radio, as was the military which had bases in the area. This hobbyist spirit seemed to combine with the Western pioneer energy to result in a flood of early electronics entrepreneurs. The traditions set by these folks then carried over to the semiconductor and PC communities that also started here.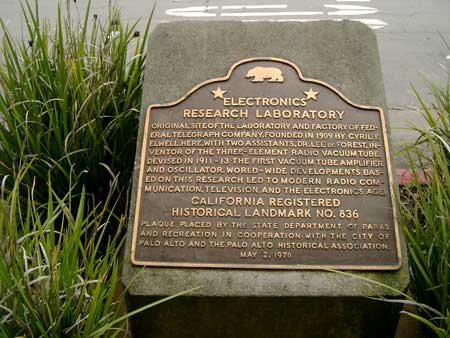 The FTT historical marker noting de Forest's work. It sits near 913 Emerson Street in Palo Alto, just a couple of blocks from the HP Garage.
To get a firm handle on de Forest's work, we turn to Crystal Fire - another wonderful book about the invention of semiconductors.
Dial back to 1883,
Introducing a tiny metal plate into the glass envelope, Edison noticed that a current trickled through the empty bulb when he applied a positive voltage to this plate. Electrons (which, remember, would not be discovered by Thomson until 1897) sputtering off the hot, glowing filament were attracted to the plate. But Edison was much too busy with many other inventions and projects to follow up on his find, which he patented and promptly ignored.

It lay forgotten until 1904, when the British scientist John. A Fleming exploited the effect in a vacuum-tube device he dubbed an "oscillation valve" that served as a detector of radio waves. Much like the crystal used in later crystal sets, Fleming's valve permitted electrical current to flow in only a single direction., thereby converting alternating currents generated in a radio antenna into the direct current required by the headphones.

De Forest then took Fleming's invention a giant step further. Between the valve's filament and plate, he introduced a third electrode that he called a "grid." By applying different amounts of voltage to the grid, he found he could control the current flow through the valve, thus inventing his famous audion.
Famous indeed. The audion vacuum tube would dominate electronics in the first half of the twentieth century once de Forest developed his audion amplifier at Federal Telegraph Co. research lab in Palo Atlo. About forty-five years later and six miles away in Mountain View, the likes of Shockley, Noyce and Moore would begin hammering out the transistors and then ICs that would replace vacuum tubes.
The De Forest figure launches from the California Theatre in San Jose on Aug. 7.
The HP hitchhiking way
As HP representatives read this, they'll be finding out for the first time that the Hewlett and Packard figure will be heading to the company's Palo Alto headquarters. Newdoll didn't want to give the companies forewarning about the project out of fear that they'd try and nix the idea. The HP cutout will take off from the printer cartridge section of the Office Depot on Blossom Hill Road in San Jose on Aug. 5, although we think a Fry's would have been the better choice.
Hewlett and Packard tapped into two of the major Silicon Valley themes - the early electronics industry and Stanford University. We happen to have explored HP's connections to Silicon Valley and influence on the region in a a piece last week and urge you to give it a look.
Only Mountain View fans and Noyce bigots would dispute Hewlett and Packard's claim to birthing Silicon Valley as we know it today. We happen to think the Mountain View crowd and Noyce bigots are right, but without question Hewlett and Packard added some power, prestige and class to this area.
Sponsored: Minds Mastering Machines - Call for papers now open