Back from the dead, Silicon Valley icons hitchhike across the US
Believe it when you GPS it
A Noyce guy
To many in Silicon Valley, Noyce was known as the charismatic king of semiconductors. He went from Shockley's lab, to Fairchild and then Intel, mixing engineering smarts with managerial prowess. As Leslie Berlin points out in her outstanding Noyce biography The Man Behind the Microchip, an entire generation of semiconductor engineers had Noyce as their first boss while at Fairchild. Many of these engineers went on to found their own companies - the Fairchildren - and Noyce's managerial style carried through the semiconductor market.
"He wrote personal notes to researchers whose work impressed him," Berlin recounts in her book. "He poked his head into employees' offices to thank them for their work - and said it sincerely enough that one man so complimented compared the experience to 'a hundred per cent raise.' Many of the elements of Noyce's managerial style trickled through the ranks. Supervisors tended to give the people who worked for them a job and let them do it themselves, with little guidance and often little systematic follow-through to check on progress."
Noyce's rather sweeping managerial style, while pleasant, often left longtime partner Gordon Moore to follow through on execution. Noyce would set a high target for his team and then move on, while Moore made sure workers achieved the goal.
Noyce, however, was an engineer before he was a manager and will always be remembered for his patent on the integrated circuit (IC).
Technically, Noyce shares the invention of the IC with Jack Kilby, a researcher at Texas Instruments. Noyce's notebooks seem to indicate that he actually started pursuing the IC route well before Kilby, but it was Kilby that received the Nobel Prize in 2000. You can thank the Royal Swedish Academy for taking its time recognizing this technology so key to today's microprocessors. By the time it got around to handing out the award, Noyce had passed, and the Nobel Prize is never given posthumously. Many have speculated that the Swedes couldn't stand the idea of handing a raving capitalist such as Noyce the Nobel Prize. Kilby was gracious enough to note that Noyce would have shared the award had he still been kicking in 2000.
Back to the wooden Noyce, it's fitting that the figure take off from an Iowa pig farm. Noyce grew up in Iowa and attended the small but prestigious Grinnell College. It was at Grinnell where a professor encouraged Noyce's fascination with semiconductors. Noyce's early embrace of the technology would give him an edge over peers at MIT and Shockley.
Iowa also provides one of the most famous Noyce anecdotes - his theft of a pig from a local farm for a party at Grinnell.
Noyce and a mate "walked across the golf course behind campus, grabbed a suckling pig and ran with it back to Clark Hall," Berlin writes. "His housemates decided to butcher the piglet in a third-floor shower. A frantically squealing animal, intoxicated young men with knives - the ruckus was such that students all over campus immediately knew something untoward was happening in Clark Hall."
While Noyce faced a possible felony charge for stealing a pig in the agricultural rich Iowa, Grinnell brokered a deal with the farmer in which the school paid for the pig, Noyce apologized for the act and both students were suspended for the first semester of their senior year. Later in life, Noyce would continue to push boundaries via daredevil skiing, flying and risky investing - he put some of the first money into Apple and AMD, rather ironically.
Grinnell didn't want anything to do with the hitchhiker project. "These people are so revered at their respective institutions," Newdoll said. "They don't want anything that could even almost seem like an insult or a joke. They would prefer not to see a wooden Noyce nailed up on the wall of a bar."
Before we dive into the histories and journeys of the other figures, we'll cover some more of the project's basics for you.
Many of you are no doubt wondering what incentive would drive the average person to cart a wooden creature all the way across the country.
Well, in this case, Pallas has offered five per cent of the sale value of each figure to any single individual that takes one figure from its start to its finish. You can, however, earn more by sharing - Sesame Street would be proud. "We would like for 5 people to be involved in moving the piece," the notice on the figures reads. "Therefore, the first three people to move the artwork toward its destination will qualify for 5% ownership of the piece. If a 4th person does a portion of the transporting, then the first three people may each qualify for a 10% share of the piece. The 4th person qualifies for a 5% share, but if that person can get a 5th person to deliver it to its destination, then both the 4th and 5th persons will be eligible for 9% ownership in the piece. However, if it takes more than 5 people to get the figure to Stanford, 48% of the piece will be divided equally amount the total number of people it too to get the figure to his destination. Anyone can deliver the figure to its destination at any point. The percentages will then be determined by the number people involved in his journey as outlined above."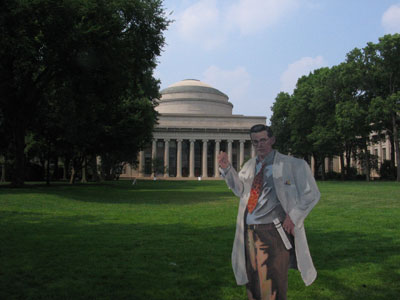 Terman at MIT's campus. Pic: John Maloney
And how do people know what to do with the figures?
Well, Terman was abandoned this week in Boston at the SIGGRAPH conference hall. A passerby saw the following notice on Terman's back and picked him up.
This art object was made to acknowledge the contribution of Frederick Terman to the development of modern technology, particularly in "Silicon Valley". We want Fred to go to Stanford's Engineering Department, (Terman Building, room 214) in San Jose, California by August 12, 2006.

Fred is equipped with a cheap GPS-type circuit which permits his whereabouts to be tracked. Please do not tamper or disconnect as this is essential to the success of our art project.

If you wish to be part of this project, add your name and contact information in the space below. Next, show Fred a good time. He's been away a long time. Take him on an adventure, do something fun, snap some pics, or write a report. After you and Fred have had a few laffs, find the next person to go toward Stanford and give Fred to them. If you can't find someone suitable, you can leave Fred in a public place. Using a delivery service, such as United Parcel Service, will disqualify you. Fred is supposed to hitchhike to California as part of our project.

Certificates of shares will be issued after Fred arrives at Stanford. He must arrive on or before August 12, 2006. You will also be invited to an August 12 event in the San Francisco Bay Area as our honored guest once you register to receive a share.
You can't take these boys on the plane either, and, even if you tried, it's unlikely that security would wave a life-size wooden figure with wires, a cell phone and battery strapped to its back on the flight.
Over the next week, de Forest, Hewlett and Packard and Shockley will be released here in Silicon Valley. You can find all the launch details on the main hitchhiker site or by following on with this story.
Sponsored: Minds Mastering Machines - Call for papers now open