Two more laptops light up
Dell breathes a sigh of relief: one of them's an Apple Mac
More notebook computers are spontaneously bursting into flames, possibly in a bid to show solidarity with similar self-combusting comrades. Is it, we wonder, a sign that the portables we take for granted have had enough of their human masters?
One tale certainly reads that way. According to a report on US website ConsumerAffairs.com, (yet another) incendiary Dell laptop stashed in the back of a pick-up set of "several boxes of ammunition" starting a blaze that totalled the owners vehicle.
The upshot: Thomas Forqueran and buddy Rod Riddle were left stranded in Lake Mead National Forest, Nevada.
There's a positive side: the smoke from the burning truck attracted the attention of park rangers, who were able to rescue Forqueran and Riddle, but not, it seems, the laptop.
But it's not only Dell machines in peril. Norwegian website ITAvisen reports that a reader's Apple 12in PowerBook G4 also experienced a battery burn-out. Here's a pic, but the site has more: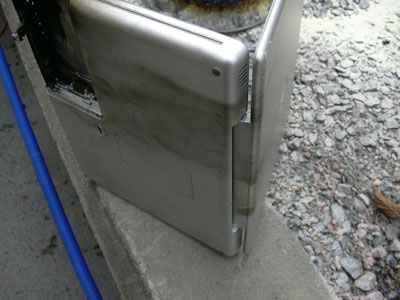 Apple recalled certain PowerBook G4 batteries in August 2005, including some in 12in models. At this stage it's unclear whether the singed machine would have been covered by the recall and if so whether the owne availed his or herself of Apple's offer to ship them a new power pack. Either way, the blaze appears to have begun in the battery compartment, melting the thin plastic edging between the notebook's aluminium panels and bursting the computer's seams. ®
Sponsored: Minds Mastering Machines - Call for papers now open