'Official' Vodafone 3G Treo pic spotted on web
Originally posted by Microsoft, apparently
Is this the face of Palm's upcoming 3G Treo smart phone for Vodafone's European networks? Euro website MSMobiles.com seems to think so, claiming to have found the snap in Microsoft document, of all places.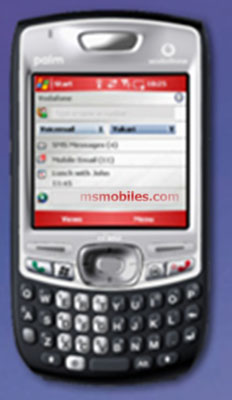 The device in the report looks substantially like the US-only Treo 700w. There's no antenna, of course, as Europeans consider them passé, and at first glance you might consider the shot a suitably touched-up pic of the 700w, with suitable logos added, the keyboard colours reverse and the aerial airbrushed out. Oddly, the usually red Vodafone logo is white here.
However, we draw your attention to two small details: the soft-menu keys appear flatter than those on the 700w, and the call make and break keys are much closer to, respectively, the Start and OK buttons than is the case with the 700w.
Beyond that, the pic's too blurry to examine closely - we suspect it's been expanded from a much smaller original. ®
Sponsored: Minds Mastering Machines - Call for papers now open