Ballmer to Wall St: we always back a winner
Microsoft Bob, who?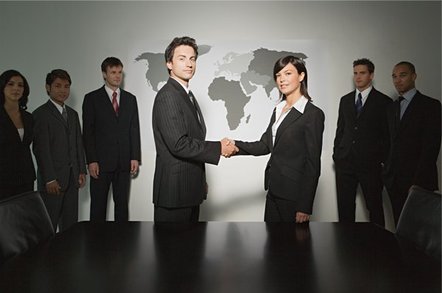 An unapologetic Steve Ballmer has committed Microsoft to investments in an array of new markets, while ruling and end to monumental delays on flagship products.
Microsoft's chief executive on Thursday prepared Wall St for ongoing long-term R&D and marketing spending, which will push up costs and bust margins, into already occupied markets.
Ballmer was closing Microsoft's annual financial analysts' summit, where company executives had spent the day beating investors into accepting the wisdom of betting on online services, search and internet advertising as growth strategies.
It was clear from comments during the day executives had been grilled on the wisdom of this strategy, asked whether they see Microsoft as a leader or on the defensive, and what the implications are for margins and operating expenses. At 30-years' old, Wall St has is accustomed to Microsoft as a stable, non-risk stock.
For Ballmer there was no question investors should put their faith in Microsoft. "There are very few areas where, except for Microsoft Bob, we haven't succeeded or were we're [still] telling you we are going to succeed," Ballmer almost joked. "We think the business we pick are very good businesses and we should stick with them."
While Microsoft is not first in business intelligence, search and media players (with Zune), Ballmer said Microsoft could innovate against incumbents and leverage its size. Focusing on Zune, Ballmer said: "There's no other company that would be attempting to get into that business at this time, no other company has the opportunity, financial resources or the... no let's just leave it at that."
Ballmer said such a spread of investments meant Microsoft is turning into a "multicore" company, making it difficult for investors to quantify. "There is a Sony that lives inside of us, and an aspiring Yahoo! or Google that lives inside of us, and an IBM mainframe that lurks inside of us... I want Microsoft to be in all of the good important big growth businesses in the world," Ballmer said.
At about this point, investors must have been hankering for the security of Office, and client and server operating systems. With Windows Vista bedevilled by delays, Ballmer promised: "We will never repeat this experience with Windows again. We will never have a five-year gap between flagship products."
Pressed to explain what the company has done to avoid delays, Ballmer said - chiefly - it had learned the classic lesson of promising too much in one go. He said he shared this mistake jointly with Bill Gates, Craig Mundie chief research and strategy officer and Jim Allchin, co-president for platforms and services. "We tried to incubate too many new things and integrate them simultaneously rather than let them bake. There was too much complexity. We worked down that path for a while and said it wouldn't work. We re-booted where we were.
Other changes include the promotion of Steven Sinofsky, former Office development Czar, and named senior vice president of Windows and Windows Live engineering in March, to take over Windows from Allchin. Sinofsky has a track record for bringing in new versions of Microsoft's desktop productivity suite on time. ®
Sponsored: Minds Mastering Machines - Call for papers now open