Nvidia GeForce 7600 GS-based fanless cards
Asus and eVGA set out their passively cooled wares
Before you consider getting a passively cooled graphics card, make sure you have a well-ventilated case, as the cards in question got quite hot during testing. The heat has to escape the case one way or another, and you don't want it building up inside the case. Both cooling solutions seemed to be up to the job. However, our test rig may have needed some extra cooling as you'll notice from a couple of odd scores yielded by the Asus card.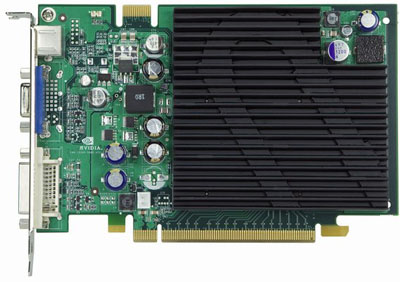 The eVGA card takes up less space, and I personally favour it over Asus' heatsink arranagement. The rear overhang on the Asus heatsink shouldn't cause any problems, although in an SLI setup as a second card it's possible that it could touch other full-height cards in the adjacent slot. It might also not fit certain small form-factor systems.
The 7600GS cards where tested using an AMD FX-60 processor, 1GB of DDR400 Crucial Ballistix memory, an MSI K8N SLI motherboard, a Western Digital Caviar SE16 hard drive and a Tagan 580W power supply.
Looking at the performance numbers, you'll quickly realise that the 7600 GS isn't for the hardcore gamer, but rather for the all-rounder. Playing the latest games on a 17in or 19in TFT shouldn't prove a let-down, but moving up to higher resolutions will require a more powerful graphics card. The same goes if you want to play your games with FSAA and AF enabled, as the 7600 GS doesn't have enough grunt to cope with all the extra rendering work at higher resolutions.
Price-wise the 7600 GS is eminently affordable, as you can pick up the Asus card in the UK for less than £100. I couldn't locate anyone currently stocking the eVGA card in the UK, but it retails for about $120 (£65) in the US. Once again, this shows how unfair the pricing of computer components is in Europe compared to the US.
Verdict
The GeForce 7600 GS is a decent chip for anyone looking to buy an affordable card that allows you to play games and more without any extra fan noise. The two cards are similar enough to make the choice between them more a matter of brand preference than anything else, although the heatsink might be a deciding factor for buyers withh SFF PCs. ®
Sponsored: Minds Mastering Machines - Call for papers now open

Nvidia GeForce 7600 GS-based fanless cards
These cards' cooling may be passive, but the gameplay certainly isn't...