Alienware Area 51 m5500 notebook
Upgraded before it even shipped...
A neat feature is that you can disable the graphics chipset and use the integrated Intel graphics capabilities. It's not the only notebook in the world to offer this feature, but it means you can get slightly better battery life when you don't need the extra graphics performance. However, the review unit wasn't set up correctly, so switching to the integrated graphics mode resulted in no drivers being loaded. This isn't up to Alienware's normally high standard, but I'm sure it was only a minor oversight.
The general build-quality was good, which is something you'd expect from an Alienware product, especially at the price you're paying. Although I'm not that keen on the rubber inlays in the lid - it just adds weight without appearing to have any functionality - some buyers like the look. The unit's battery life was quite disappointing, considering that you won't get more than one and a half hours' worth of DVD watching and not quite two hours' general Windows usage.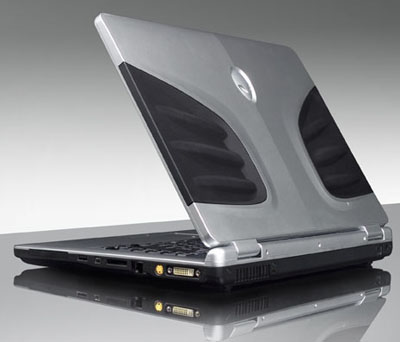 There's a wide range of connectivity options, with built in 802.11b/g Wi-Fi – the updated models also supports 802.11a – three USB 2.0 ports, a four-pin FireWire port, a Memory Stick/SD/MMC card reader, and a PC Card slot – which has been upgraded to an Express Card 54 slot in the newer models. A D-sub is also available for attaching the Area 51 m5500 to a projector or an external display, and there is also S-video out. The on-board sound system offers up to 5.1-channel via S/PDIF or the three analogue outputs, although there are only stereo speakers built in.
They keyboard is quite comfortable to type on and the touchpad is responsive. There's a separate section of the touchpad that works like the scroll wheel on a mouse if you move your finger up and down it.
Overall, the Alienware Area 51 m5500 is a rather strange beast, it has a super-high resolution display, but not enough graphics power to run 3D games at its native resolution. There are plenty of configuration options available to cater for a wide range of wallet sizes, but the question is if Alienware will skip the Core Duo version and go straight for the Core 2 Duo upgrade. Considering how fast Intel has been releasing new products this year, there's no wonder the laptop manufacturers are having a hard time keeping up.
Verdict
Alienware's decision to upgrade the reviewed model with a new processor platform means the new Area 51 m5500 should be even better. An Alienware isn't for everyone, but the m5500 shows that you don't have to be a hardcore gamer to own one. ®
Sponsored: Minds Mastering Machines - Call for papers now open

Alienware Area 51 m5500 notebook
A solid performer for the more casual gamer. The upgraded model should be even better...
Price:
From £899 inc. VAT RRP