MXI Outbacker MXP 40GB biometric hard drive
Serious security
I found the sensor worked reasonably well, but didn't appear as accurate as, or more sensitive than the one on the LaCie Safe - at least, I got more warnings about mis-swiped prints from MXI's software than I did from LaCie's. One other user I added just couldn't get the drive to recognise his registered prints.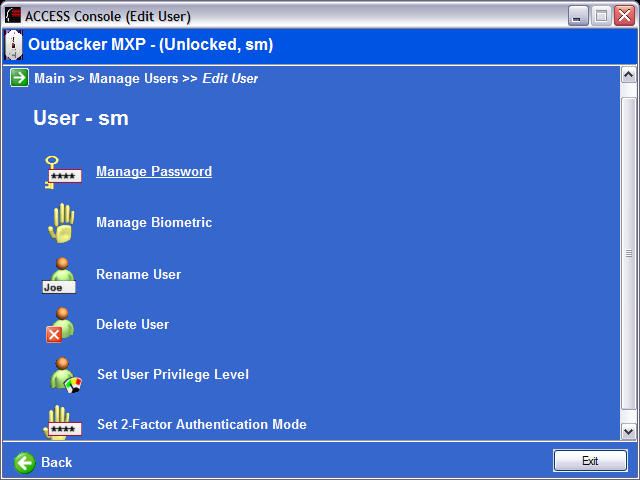 Access Console allows you to assign passwords to users, so should they run into such problems they can still unlock the drive in a traditional way. You can also apply limits to the number of times a finger can be scanned incorrectly before it is rejected as an unknown user. Similarly, you can specify the likelihood that a non-registered user's fingerprint will generate a false positive - essentially a measure of the reader's sensitivity.
I ran Reg Hardware's usual drive performance test: duplicating a folder containing ten 20MB files on the drive. It took, on average, 47.93s. That's more than double the time it tool on the similarly USB 2.0-connected LaCie Safe, but then the Safe is a desktop, AC-powered unit, and the Outbacker is a mobile, bus-powered job. Speaking of mobility, the Outbacker ships with a leatherette beltclip and holster combo for folk on the move.
Unlike the Safe, the Outbaker also incorporates data encryption, to 256-bit AES standard, and the on-the-fly coding and decoding almost certainly has an impact on performance. You also pay for this level of encryption financially: the 120GB mobile version of Safe that incorporates 128-bit Triple DES encryption costs $300, $400 less than an Outbacker of half the storage capacity. The LaCie is fully Mac-compatible - the Outbacker is not. That said, the Outbacker is tougher, but whether it's $400 tougher is open to question.
Verdict
MXI Security's Outbacker MXP mobile hard drive is undoubtedly a highly secure device. Mainstream users looking for a product that will keep their data away from prying eyes will probably find it too fussy, but it's likely to prove a winner with confidentiality obsessed corporates. They'll easily stomach the high price, which is way beyond faster, more capacious competing solutions aimed at a more general userbase. ®
Sponsored: Minds Mastering Machines - Call for papers now open

MXI Outbacker MXP 40GB biometric hard drive
Probably the toughest, most secure mobile hard drive in the world but it'll cost you...
Price:
$500 (20GB), $600 (40GB), $700 (60GB) RRP