CoPilot Live 6 for Symbian
Sat Nav for your Series 60 phone
When the software is running, you're presented with CoPilot Live 6's standard icon-based menu. You can enter multi-stop routes, check out traffic data at a given location and get a route to a single destination. The user interface will be familiar to anyone who's used the Windows Mobile versions of CoPilot, but it's well adjusted to the Series 60 approach that Symbian fans new to the software should have no problems getting going with it. There are some gotchas: in some screens it's hard to see how to get back to where you were.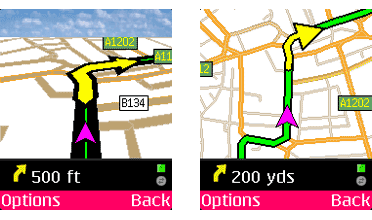 Case in point: the software's main menu, called the Welcome screen, can often only be reached by activating the Options soft menu and looking for it in, of all places, the Help sub-menu.
Routes can be selected using one of three modes: Guidance, Planning and Walking - though Flying might be a better name for the latter option since all it appears to do is draw a straight line from A to B, no matter what's in between. Guidance provides full spoken instructions for your drive, while Planning is about sussing out the best route before travelling. Now, this mode does let you work with no GPS receiver attached, but since the software defaults to Guidance mode, which won't work without the GPS, that doesn't help.
CoPilot Live 6 in all its forms incorporates full postcode searches, though it sometimes still requires a street name, even though the house number and postcode is all that it ought to require. At least the maps - from Navteq - are reasonably up-to-date, passing my usual test for finding a four-year old estate in a small Bedfordshire village. That said, it put the house I was after in the cul-de-sac parallel to the one it's actually in...
Integration with the phone's Contracts app was weak: I entered the full address of a former residence, but CoPilot was unable to locate it. To be fair, that may well because the N70's Contacts app has some odd pre-programmed address fields: where do you put the house number, for example? There's a P.O. Box entry, even for home addresses, and I suspect that's where, but CoPilot understandably doesn't recognise such an entry for what it is.
Route planning is reasonably quick, but not as fast as Navicore, I'd say. CoPilot will, as you'd expect, alert you when a route crosses the London congestion-charge zone or requires a toll road, and you can tell it to avoid these altogether or use them only when there's no other way. It will also - according to your preference - pick either the shortest route or the one that will get you there most quickly.
Sponsored: Minds Mastering Machines - Call for papers now open