BlueTrek Serenity
Never forget your mobile again, apparently
Review Always forgetting your keys, or leaving your phone behind? BlueTrek's Serenity claims to be able to help, not through a programme of concentration-enhancing exercises, or by stapling the offending keys to the back of your hand, but through the application of wireless technology...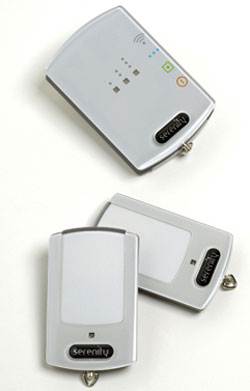 The Serenity consists of three boxes about the size of a book of matches. The slightly larger one is the basestation and the others - called tags - are to be attached to something you are likely to forget. If either of the tags gets more than 5m from the basestation then bleeping commences and you know to go back and get something you forgot - as long as the thing you forgot wasn't the basestation.
The boxes are nicely designed, even if the buttons on the basestation have a habit of getting pressed when stuffed into a trouser pocket - surely the natural habitat of such a device. Technically, the product works a treat: you can set how often the basestation should poll the boxes, starting at 6s and rising if you want more battery life, and as soon as one of the tags is more than 5m off, then sure enough there is beeping.
The range seems unaffected by walls, but put a couple of people between you and your tag and it will go off, though it's hard to imagine a situation where this would be a problem. Actually, the problem with the Serenity is that it's hard to imagine a situation where it would actually be useful at all.
The tags are just about small enough to attach to a key ring - think 'big key fob' - though you wouldn't want one hanging off your phone. But the kind of people who remember to take the basestation with them and to have the tags attached to things they worry about are not the kind of people who forget those things in the first place.
Theft-detection might be another application, but not if you're anywhere noisy or crowded when the theft occurs - the very polite beeping of the basestation isn't going to attract attention from anyone who isn't listening out for it, defeating the object. And six seconds is easily long enough for someone to disappear in a crowd; their newly purloined handset beeping pathetically.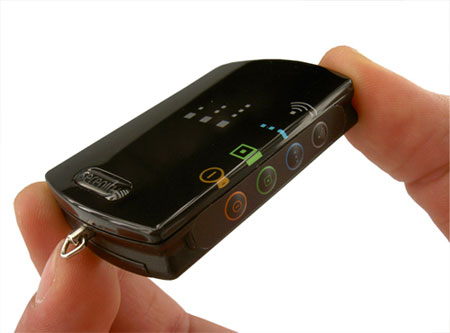 The Serenity is nicely made, attractively designed and based on good technology. In the right situation it could be, no doubt, indispensable - the problem is finding that situation.
At 70 quid (£54 with only one tag) it is going to need a pretty compelling application. That is a lot of money just to avoid going back for a set of keys every now and then.
Suggestions for the killer application on a postcard to the usual address, but until we hear one, the Serenity remains an interesting novelty. ®
Sponsored: Minds Mastering Machines - Call for papers now open

BlueTrek Serenity
It's pricey, and what if you forget your anti-forget gadgets?
Price:
£70 (with two tags); £54 (with one tag) RRP