Griffin iTrip to be UK street-legal by year's end?
UK authority formally proposes legalisation
UK communications regulator Ofcom had finally formally proposed the legalisation of low-power FM transmitters typified by Griffin Technology's iTrip, used to beam whatever an iPod's playing to a nearby radio. The agency said it hopes it could have a Europe-wide legislative framework in place by the end of the year.
Use of the iTrip is currently illegal in the UK because it contravenes the terms of the 1949 Wireless Telegraphy Act, which guarantees spectrum licence holders unobstructed access to their favoured frequencies. Since the FM band on which the iTrip operates is licensed spectrum, Ofcom has had to ban the gadgets becuase however small their range they impinge upon someone's licensed property.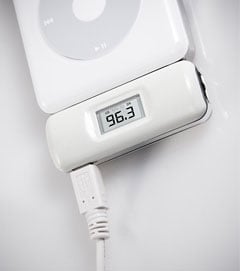 The 2003 Wireless Telegraphy Exemption Regulations Act opened up an opportunity for Ofcom to tweak elements of the 1949 Act, and given the clear consumer interest in the use of devices like the iTrip, it has been pursuing a legalisation policy since then. Alas, the bureaucratic wheels grind exceeding slow, largely because Ofcom has been consulting with licensees and other interested parties on this and other suggested exemptions.
But at least we're at the stage where Ofcom can formally propose the legalisation of the iTrip. It still has to allow stakeholders to comment on its proposals, a process expected to be completed by the end of September. Assuming there's no overriding reason to reject the proposal, it will be issued soon after that deadline as a draft amendment. A further month's consultation is required for that, after which Ofcom can "seek to bring the Regulations into force".
If all goes to plan, it said, those regulations will be in place by December 2006, ready for everyone to put an iTrip on their letters to Santa. ®
Related reviews
Griffin TuneFlex in-car iPod Nano holder
Griffin TuneBuds iPod lanyard-earphone comb
Logitech Wireless Music System for iPod
Logitech Wireless Headphones for iPod
Griffin EarThumps earphones
Sponsored: Minds Mastering Machines - Call for papers now open