SanDisk Sansa e250 MP3 player
Has the proverbial iPod Nano beater arrived at last?
The Sansa e200 series has the same proprietary USB connector as the c100 series, and once again I'd rather have seen a standard mini USB connector in its place. The problem is that you need to charge the player over USB, and mini USB chargers are quite commonplace and tend to come with some other devices that you might already own. Still, as long as you're happy to carry the cable with you, it's possible to get a small USB charger for around £10, into which you can attach any standard USB plug.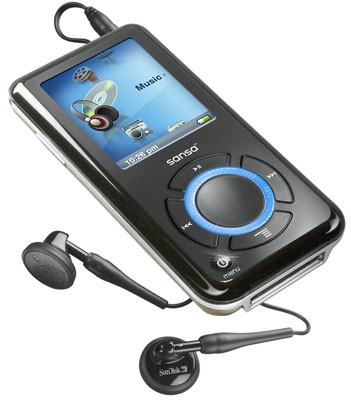 Apart from the USB cable, you get a pair of headphones - for a change a rather good set. The only problem is that the earplugs are large, so they might be hard to fit or uncomfortable if you have small ears. You also get a protective pouch to keep the player in and a lanyard for hanging it around your neck.
The menu system is rather straightforward, but what confused me and still gets me is that the menu - which positions the icons in a circle, though you can only see a section of it any one time - rotates in the opposite direction to the wheel. Rotate the control clockwise and the circle of icons turns anti-clockwise. I found this counter-intuitive, and it takes a while to get used to. Otherwise the menus are very slick and the 1.8in, 220 x 176 TFT display is very bright and easy to read. The screen is a huge improvement over the one on the c150 and can easily compete with many mobile phones for picture quality.
Having a large and quite high resolution display - at least for a Flash-based MP3 player - means the e250 can show a lot of information. Although this is handy when you're browsing your music, SanDisk has also included picture viewing and video support. However, you can't just copy any random content onto the e250, as it only plays QuickTime .mov files at 15fps. There is support for a wide range of picture formats, but the pictures can't be to high resolution or they won't display.
The SanDisk Media Converter will happily resize and convert your content into a suitable format for playback. It's a straightforward piece of software and it will even convert DVDs to a suitable format. However, it only supports still images and video, not music. The e200 range will play MP3, WMA and WMA DRM content. It will also sync with Windows Media Player 9 or later.