SanDisk Sansa e250 MP3 player
Has the proverbial iPod Nano beater arrived at last?
Review There's no denying that Apple's ownership of the MP3 player market, but it's far from the only contender. SanDisk has been making MP3 players for quite some time, like the c150 I reviewed not so long ago. However, the new e200 series is a direct competitor to the iPod Nano, so let's see how well it compares...
SanDisk provided the Sansa e250 for review. It's the 2GB model, accompanied by the 4GB e260 and 6GB e270, with the possibility of an 8GB version becoming available shortly. There's even a MicroSD card slot for further memory expansion, although for the time being this is limited to 1GB due to the memory card format's capacity limitations. But larger cards are expected this year.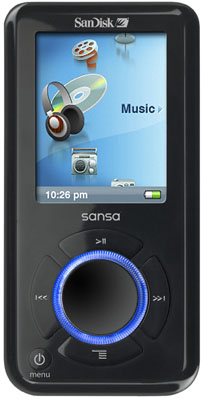 The e200 series shares its looks with the black iPod Nano, without copying it. There's no clickwheel - instead SanDisk has gone for a mechanical wheel with a blue backlight, and it works pretty well. At 8.9 x 4.4 x 1.3cm the Sansa is slightly wider, but a lot thicker than the Nano. It also weighs quite a lot more, but it still fits quite comfortably in a shirt pocket.
The back is made out of a metal alloy, the front from dark acrylic. It all feels very solid and appears to be quite scratch resistant. However, it's very prone to collecting greasy fingerprints, but these are easily polished off.
Besides the wheel there are six buttons on the front. As with the Sansa c150, the power button doubles up as the menu button - maybe not the greatest UI idea ever, but it works well as long as you don't press it for too long. The other five buttons are navigation and play controls. There's a play/pause button, a forward and reverse button and a sub-menu button. Finally, the centre of the scroll wheel is the select button.
SanDisk has also fitted a button on the left-hand side which launches the voice recorder. I managed to press this a couple of times by mistake, cutting off the music. At the top of the device is the built in microphone - which offers quite good recording quality and sensitivity - a rather stiff Hold button and the headphone jack.
Sponsored: Minds Mastering Machines - Call for papers now open