Microsoft incentives to influence your security vote
Shows 'em the money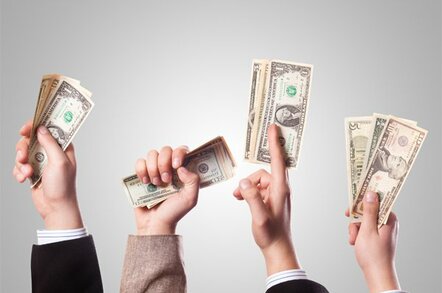 Microsoft is offering partners a tasty slice of security software licensing revenues, in a promo to help kick-start this new business.
Consultants and systems integrators (SIs) will, for a limited time, receive up to 30 per cent of the cash Microsoft makes on sales of ISA Server, Antigen and ForeFront business products under Microsoft's Security Software Advisor (SSA) program, announced Wednesday. After the promo finishes, partners will make 20 per cent on sales.
This is the first time Microsoft has made such an offer to consultants and SIs - partners who typically play a key role in influencing user purchasing decisions but who are rarely part of the actual sales process. The deal demonstrates the value Microsoft is placing on seeding the market with its security offerings.
Steve Brown, Microsoft director of product management for security and access products, told The Register: "We haven't offered any like this before. They [consultants and SIs] really function as a trusted advisor to a company, they have a strategic relationship and play a key advisor role in architecture and technology selection."
Microsoft is also working to expand partners' knowledge of its products. SSA is backed by a $15m investment during the 12 months to help add "thousands" of companies to Microsoft's partner networks in the area of security. The software giant will spend on training, co-marketing, and demand generation programs.
The software giant has taken flack for its decision to offer its own security products in direct competition with partners. But Brown insists that partners are "excited" by the new opportunities afforded by a Microsoft vision that goes beyond just security products and ties into managed infrastructure.
"It's a net market expander... that will open up the market to high-margin, value-add services," he said. To qualify for SSA, companies must either be a partner of Microsoft, have been a partner of Sybari Sottware (acquired by Microsoft), or a "top-tier" member of another security vendor's partner program. ®
Sponsored: Minds Mastering Machines - Call for papers now open