Dell hands out plug for Sun CEO
That'll keep you, er, loud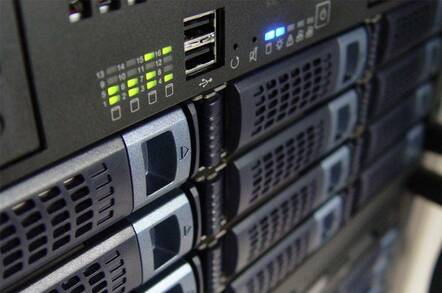 One of the few redeeming qualities Dell had left was its home base in Central Texas. The Lonestar State angle backed up Dell's hard-nosed, direct model approach to selling computers. The Texas toughness helped explain Dell's behavior over the years when the vendor ignored namby-pamby customer complaints in favor of always lowering prices.
Well, Dell has done away with its Texas grit by this month putting on a Web 2.0 skirt and swishing around in front of us all via its new blog.
We're told that "One2One" follows Dell's direct model by having "direct conversations" with customers. Although, we wonder how many customers care what some Dell blogger thinks about Robert Scoble's breakfast choices and question how one-to-one a blog is. Wouldn't having someone who answers a customer service line with a functional grasp of English be a tad more direct?
The blog itself isn't actually that bad, if you ignore the Dell bloggers writing about what other bloggers think of the Dell blog - rinse, repeat. Dell has different people presenting hardware or customer service tools and explaining how the stuff works. It's obvious that someone convinced Dell a blog might help solve some of its PR issues, and providing product tutorials is a decent enough path for the company to take once it committed to the blog idea.
What's really embarrassing, however, is Dell's link to Sun Microsystems CEO Jonathan Schwartz's blog. A Dell blogger justifies this decision by saying, "Robert Scoble told us to listen, and to link to the folks who don't like us."
Dell Investors everywhere will cry themselves to sleep tonight.
The notion that Dell has started taking strategy advice from a globule would explain a lot with regard to the company's recent woes.
How we long for the days when hard-ass Michael Dell would dismiss HP or Sun with a one-liner. Dell - while not a comic at heart - was the master of the powerful, tasteful put down. He had the revenue and market share gains to back up any barbs.
We wonder what Michael thinks about some candy-ass employees embracing the hippie, Web 2.0 lifestyle and plugging Sun's CEO just because a swollen flash-in-the-pan told them to.
Here's hoping that Dell remembers that selling stuff and not "starting open conversations" got it to the top.
Itanium? We've heard of it
Some more weirdness in the server industry this week came courtesy of Intel and HP.
Intel has a gig planned next Tuesday in San Francisco to unveil both of Montectio's bodacious cores in front of reporters. HP happened to schedule an event for the same day in Palo Alto to show off its "Next Generation Data Center."
As of this morning, HP gave in and moved its event, deciding it might not want to divide reporters between the two gigs. HP's future is more tied to Itanic than Intel's, and we think someone in the marketing department figured that out.
Another bit of proof that HP has some of the more savvy marketeers around has arrived from Down Under. We received this napkin from a server customer in Australia who attended a Sun event. Sun was looking for an event sponsor, and HP actually stepped up with the requisite cash. The end result? HP-powered Sun napkins. "Apparently the Sun customers thought it was great, especially watching the Sun reps running around trying to pick up the napkins all day," writes a source.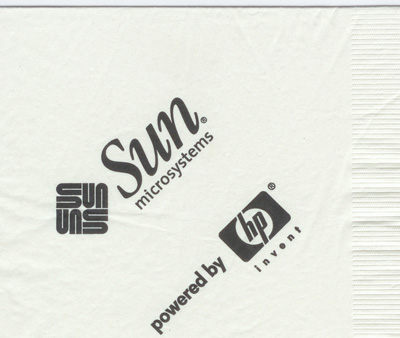 A chassis to a knife fight
The last bit of server weirdness again comes from Sun, which launched three, new Opteron-based servers today.
Sun spent much of its launch event plugging the Sun Blade 8000 chassis without ever mentioning its x8400 Opteron-based blades by name. We still can't figure out why Sun refuses to tell reporters about the existence of its blades, but there you have it. Sun's server chief John Fowler did admit that two-socket Opteron blades will arrive next year along with UltraSPARC-based blades. No need to hurry. ®
Sponsored: Minds Mastering Machines - Call for papers now open