MS Xbox PMP won't make iPod RIP
Can MS succeed where Creative, Sony, iRiver et al have failed? Er... No
Analysis World+Dog is relaying news originally posted on Bloomberg that Microsoft's rumoured 'iPod killer' could be out in time for Christmas. But the question the reports don't address is how, if even the likes of Sony are unable to hinder the iPod's market domiance, Microsoft is going to do so with what could very well be a me-too machine?
Microsoft has been in the handheld media game for a very long time now with little to show for it. The company first pitched a portable media centre platform back in January 2003. At the time, the system, dubbed Media2Go, was set to hit the market at the end of the year. By October, however, Microsoft had its eye on a H2 2004 debut and changed the name to Portable Media Center.
The software giant duly released the code, and its hardware chums Samsung, Creative and iRiver subseqently announced and then shipped boxes based on the platform. Which almost entirely failed to attract the attention of the world's consumers, who were by that stage - and still are - lapping up iPods.
However, speculation that Microsoft is still on the case has never entirely died down. This year, for example, we've had Apple CEO Steve Jobs saying he'd only be worried by a Microsoft-branded product - unlike past efforts aimed at third-party licensees - and, more importantly, hints that the software giant is working on a handheld Xbox, possibly with the help of Transmeta know-how.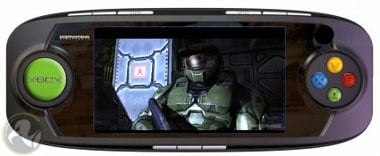 The success of Sony's PlayStation Portable, and Nintendo's GameBoy series and its DS, shows there's a clear demand for mobile gaming. Microsoft is fortunate to have a very strong brand in the gaming arena. Any modern handheld games console will also play a variety of media too - it's so easy to so, why not add music and movies to the feature list?
Microsoft, we're told, is talking to movie and television companies, not to mention the music industry's major players, to line-up content for the new gizmo. Except it's already done deals like this for its MSN Music Service set up to tap into Microsoft's Plays For Sure initiative - and, indeed, its Urge joint-venture with MTV - and it will undoubtedly be looking into movie and TV show downloads even if it has no hardware ambitions at all. This does not indicate the existence or mandate the success of a Microsoft iPod killer.
The Bloomberg report talks about MS' gadget having better picture quality than the iPod's, but again, that's easy to do - and equally easy for Apple to top in a future incarnation of the iPod, such as the video-oriented model once rumoured to have been scheduled for an April 2006 debut but now expected later this year at the earliest. The same goes for the addition of other neat-sounding features, such as Wi-Fi support - if Microsoft offers them, Apple will too, soon enough.
Don't forget that there are plenty of music players out there with longer feature lists, better battery lives and smaller price-tags than the iPod family offers. If these factors mattered that much, Apple wouldn't have grabbed the market lead it has.
There's another factor that mitigates against Microsoft's rumoured media machine: there's no clear evidence consumers want a portable movie player - the genre's lack of success so far suggests as much. Yes, Apple is selling plenty of video-capable iPods. Yes, Apple's iTunes Music Store is selling quite a few video downloads. But there's no compelling evidence to link these two facts. Anecdotal evidence suggests many video downloads are viewed on computers, not on portable players.
Why would it be any different for Microsoft? It wouldn't. And even if consumer fancy changes, there's nothing Microsoft can do that Apple would be unable to replicate promptly - assuming, of course, that the differentiator is so compelling that the iPod maker feels the need to emulate it. Worse, if Microsoft's box accumulates too many extra features in a bid to stand out from the iPod, it risks become too expensive, too impractical or just a rehash of the ultra-mobile PC (UMPC), the other handheld platform Microsoft is trying to promote at the moment.
That leaves games as the only feature where the company can make a mark - and where it has a strong enough brand to hang all this from. The games market is far more lucrative than the music and movie businesses, and Microsoft knows this. Media players will become increasingly commoditised - the games arena offers a more solid long-term business opportunity: hardware requirements will always rise, and content is even more closely tied to the hardware than it is even in the digital music download market. ®
Sponsored: Minds Mastering Machines - Call for papers now open