Sony preps sliver-like USB Flash drive
Micro Vault Tiny is... er... tiny
Sony UK today unveiled its smallest Micro Vault Flash drive yet - a 2.4mm-thick SD Card-like unit that clips into any free USB port. The 1.5g, 3 x 1.5cm Micro Vault Tiny ships in capacities of 256MB to 2GB, but ships with what Sony calls Virtual Expander software to compress the card's contents boosting storage capacity almost threefold.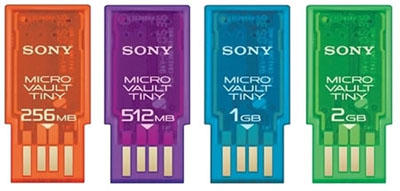 Despite the size similarly, it's not compatible with the SD format, but it's hard to believed Sony wasn't inspired by the handful of SD cards that incorporate USB-friendly connectors.
Sony did not say when the Tinies will go on sale over here or how much they will cost. ®

Related review
Fingerprint-reading Flash drives
Sponsored: Are DLP and DTP still an issue?