Samsung to bring 'BlackBerry beater' to Europe
July arrival for SGH-i320
Samsung is to ship its BlackBerry-like SGH-i320 Windows Mobile 5.0-based phone in Europe later this month, the South Korean giant promised today. The device sports a 2.2in, 240 x 320, 65,536-colour display above a QWERTY keyboard.
Samsung previewed the i320 at CommunicAsia show last month, but at the time said little about its plans to bring the business-oriented smart phone beyond the Asia Pacific region.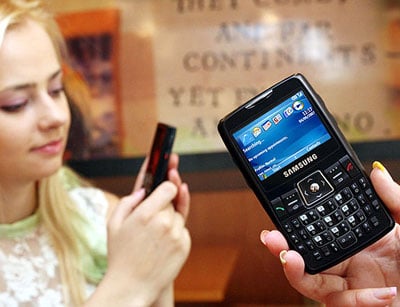 The 95g handset measures 11.1 x 5.9 x 1.2cm and is pitched against the likes of the Palm Treo 650, Motorola Q and Nokia E61. The Samsung device will support Windows Mobile 5.0's own push email extensions, along with all the usual telephony, PIM and media playback and recording facilities - there's a 1.3 megapixel camera on board for still shots and videos.
The i320 ships with 120MB of memory - there's a MicroSD slot for more - and has Bluetooth on board and a speakerphone capability. As a phone, it's a tri-band (900/1800/1900MHz) GSM/GPRS device with EDGE support.
Samsung didn't say how much it expects the i320 to cost. ®
Related reviews
Nokia N70 3G phone
Samsung P300 credit card-sized phone
Nokia N80 3G phone
Sony Ericsson W810i Walkman phone
Acer n311 Wi-Fi PDA
Sponsored: Application managers: What's keeping you up at night?