Floating bed demoed in Amsterdam
Add to wishlist
How often have you lain in bed at night, cursing the fact that the very piece of furniture upon which you are resting your weary head is somehow despoiled by its crude and ugly legs that rest on the floor?
Well, fret no more. A Dutch architect has designed a floating bed which hovers 40cm from the floor, thanks to a couple of powerful magnets, doing away with the need for clunky and outmoded legs. Just what the above average Über geek needs.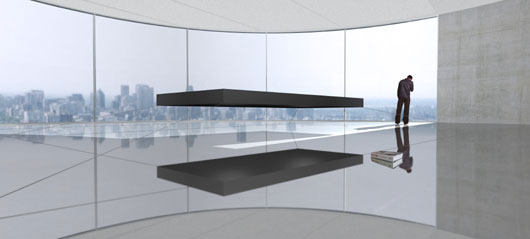 Without further ado, let's get on to the benefits of floating furniture, as outlined in the press release:
"Conventional furniture is in contact with the earth through gravity. Floating Bed overcomes this fundamental power and falls towards the sky. With a floating distance of 40cm one can think of different functions such as a bed, sofa, Japanese dining table, display for products or as a base for a floating pavilion."
Currently, this masterpiece of the imagination only exists as a 1:5 scale model, which debuted at the Millionaire's fair in Belgium. Any millionaires in the market for a floating bed, but aware of the damage magnets can do to cash cards need not worry: "The magnetic field on top of the Floating Bed is strongly reduced, so bank cards will not be erased."
Phew.
The full-sized version should be able to support a load of 900kg. More than enough, even for that Über geek. ®
Sponsored: Minds Mastering Machines - Call for papers now open