Send in the clowns robots
Rising from the swamp of futility
Someone at the conference mentioned that these are very prominent bloggers. Apparently, the tubby one on the right is Robert Scoble, and the other one is CNET's chief Web 2.0 blowhard replacement for Rafe Needleman. We haven't confirmed that yet though, so don't hold us to it.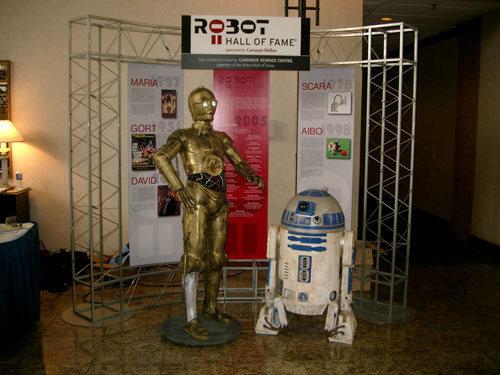 Speaking of Needleman replacements, Interbots had its Quasi robot on display, and the machine proved a big hit.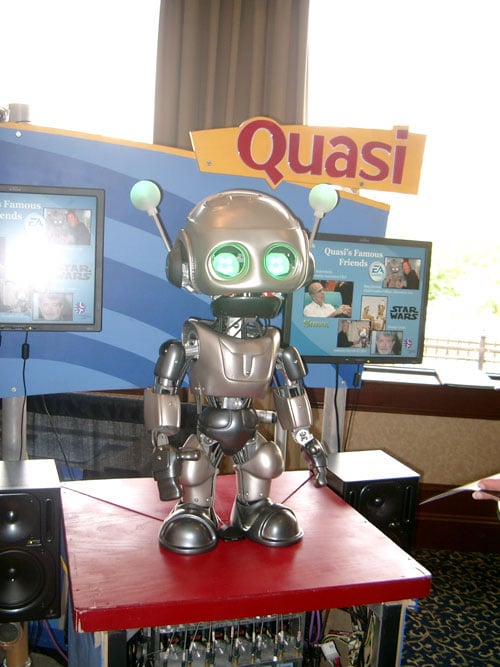 In the ultra-competitive world of robotics, cute goes a long way. We recommend that every company outfit their devices with large, round eyes and something approaching full, lifted cheekbones. Quasi can talk in a funny voice, so long as a human is around the corner speaking through a computer distortion device. You can check out more on the bot here.
These next guys aren't really robots, but they were our favorite devices on display. As you can see, a cord extends from the animal's ass to your USB port. Why? Well, these cute bastards are linked in to your instant messaging software and pipe up when they recognize phrases in a conversation. Quite seriously, the animals would say things like, "You're annoying" and "Do you want a beer?"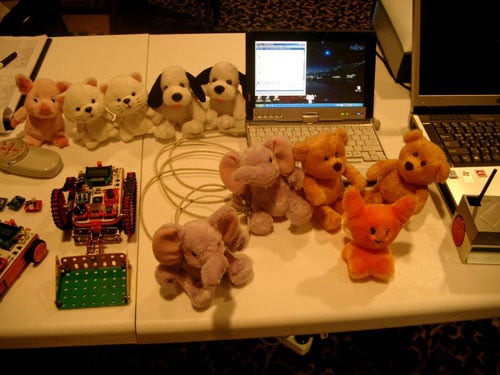 Korea's IZI Robotics makes these products along with a ton of other robots. We're told the furries will be on sale in the US soon for around $40 a pop.
Sponsored: Minds Mastering Machines - Call for papers now open