Send in the clowns robots
Rising from the swamp of futility
RoboBiz Our trip last week to the Robo Business conference in Pittsburgh confirmed one thing - the vast majority of robotics companies are in search of federal pork. About 80 per cent of the systems on display were small, autonomous vehicles capable of scouting missions, disarming bombs or carrying material.
In this photo retrospective of the event, we'll bring you plenty of military gear, but we're going to start off with the weird, the cool and the useless.
If you missed the stories from last week, have a gander here. Now, on to the photos.
Our first robot is either the weirdest or the most sexually-charged device on display. It comes from Yost Engineering - a small custom hardware and software shop in Ohio. The company was started by a professor who found it tough to pursue projects in a university environment where publishing and not producing was favored.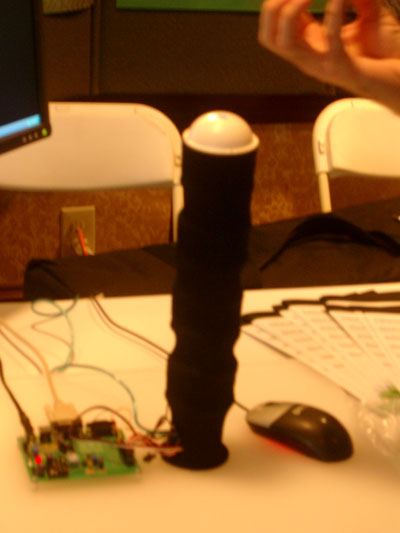 With a straight face, the Yost folks explained that this device could one day be used as a type of robotic octopus arm. It has a number of hinges and can bend in a variety of ways. It also has a camera and light attached to the tip, er, top.
We asked if it had a name and just got a laugh. You can see why.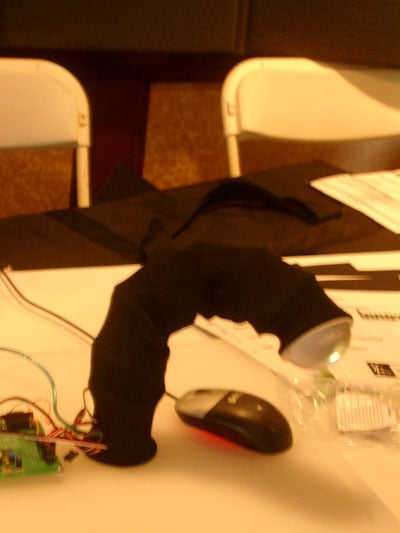 Yost also makes this artificial intelligence oddity. The freak in the hockey mask blinked and opened its mouth, as it tried to answer questions posed by Robo Business attendees. Yost has developed some manner of natural language system that lets the robot learn over time. It seemed to work okay.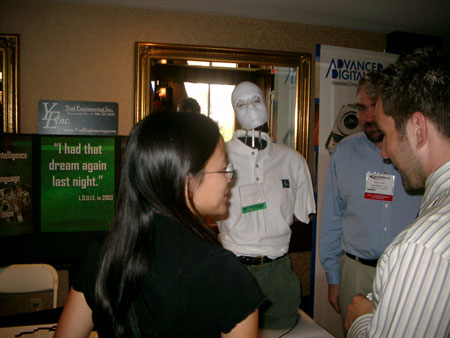 If you have $450,000 to spare and illegal aliens in the neighborhood are really getting you down, then have a gander at this baby from Skeyes Unlimited.
Yes, the world of aerial surveillance has really opened up with systems like these that take the "hard" out of hardcore snooping. This unmanned chopper can cruise about 60 miles roundtrip on a single tank of gas and deliver "real-time 3D aerial mapping." We're told that the unit can be used for border patrol or by companies that want to monitor, say, a pipeline and make sure no one is messing with their tube.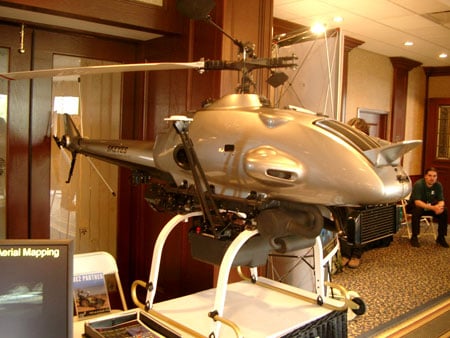 The FAA has fired up some experiments to determine just how safe these autonomous paparazzi really are. "The lack of FAA clearance is one of the barriers for commercial use right now," a Skeyes spokesman said.
No kiddin.
Don't want to go whole hog and buy the mini-copter? No problem. You can walk around with this surveillance system on a stick.
We're thinking a collection is in order to get one of these for Dvorak.
On we go.
Sponsored: Minds Mastering Machines - Call for papers now open