Official Sony UK PS3 website lists 20GB model
Proof the low-end box is coming to Britain?
Sony will indeed offer both the 20GB and 60GB versions of the PlayStation 3 in the UK, it appears. Despite earlier claims only the pricey 60GB model will be made available over here, Amazon.co.uk has begun listing the 20GB veraion too, though it's giving away no pricing or availability details.
And the official Sony Computer Entertainment Europe (SCEE) PS3 website, which went live this week, shows both models in the UK section and details the two versions' specifications.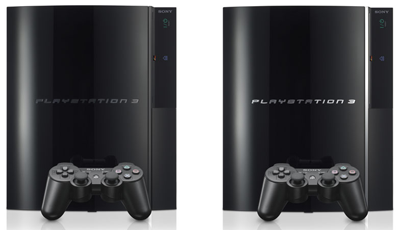 Both models are black, as per past PlayStations, but the higher spec version will be kitted out with silver trim, if the pictures on the site are anything to go by.
Apart from the different hard drive capacities, the higher-end PS3 also ships with an HDMI port, 802.11b/g Wi-Fi and a four-in-one memory card reader. The 20GB lacks these features. Sony last week confirmed the HDMI port will meet the recently posted HD interface's 1.3 specification, including its support for "deep colour" - colour depths beyond the current eight bits per channel (24-bit) depth.
Pictures reveal that the PS3 will also support Sony's Super Audio CD format, along with Dolby Digital, Dolby TrueHD - an optional Blu-ray Disc codec - and DTS sound.

Alas, the site does not provide UK pricing - it simply lists the Euro prices: €499 for the 20GB model and €599 for the 60GB version.
Fears that Sony might not offer the 20GB to British buyers were roused in May this year when SCEE UK chief Ray Maguire was quoted as claiming it was unlikely the 20GB PS3 would be released here officially.
Sony has yet to state categorically whether or nor both versions will ship in the UK, and there's some indication that the 60GB model will ship alone when the next-generation console debuts here on 17 November. Amazon.co.uk's 20GB PS3 page was said to have originally had a January 2007 date down for the low-end model's debut.
If Amazon.co.uk did post a January date - it's not doing so now, and we've only others' word for it that the etailer did display a launch timeframe - suggesting Sony may push the high-end model through Christmas before releasing the more gamer-oriented 20GB model early in the new year. ®
Sponsored: Minds Mastering Machines - Call for papers now open