Spitzer spies jets of matter around neutron star
Relatavistic, baby
Researchers at the University of Southampton have discovered a neutron star* that is producing jets of matter at its poles. Previously, it was thought that this behaviour was exclusive to black holes, specifically those in X-Ray binary systems.
An X-Ray binary system is one in which a collapsed star (a white dwarf, neutron star, or black hole) orbits a normal star so closely that its gravity pulls matter from the main star. This forms an accretion disk around the collapsed star, and as the material falls inwards, it emits X-rays - hence the name.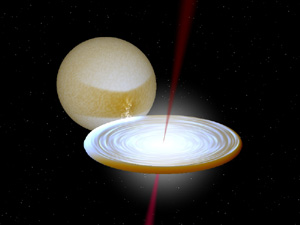 Black holes in these systems are known to produce relativistic jets of matter from their poles, which are very visible in the infrared spectrum.
Using the infrared Spitzer Space Telescope, the team spotted infrared jets coming from an x-ray binary system containing a neutron star, not a black hole. Physicists have long debated whether these jets are fuelled by a process unique to black holes, but this discovery makes it clear that whatever the process is, it must be at work in neutron stars as well.
Dr Thomas Maccarone, of the University of Southampton, says that by comparing the behaviour of the relativistic jets seen from neutron star X-Ray binaries and black hole X-Ray binaries, astronomers could learn more about the mechanism that produces them, and the effect the jets have on the black hole or neutron star.
"This discovery blazes the trail for future studies which should help reveal the nature of relativistic jets," he said. "[and help astronomers] to see whether these jets are extracting the black holes' rotational energy." ®
*A neutron star is a collapsed star that was not quite massive enough to become a black hole. It is typically as massive as our sun, but the size of a city. Its gravity is intense enough to have collapsed all its matter into neutrons, making it as dense as an atomic nucleus.
Sponsored: Minds Mastering Machines - Call for papers now open