Intel gives the go ahead to buy its server chips again
'This platform has legs'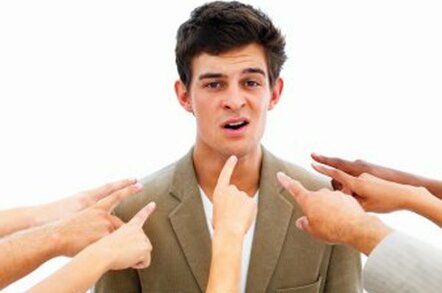 For the last few months, Intel has been on something you might call "Paul Otellini's Ride." It's kind of a Silicon Valley take on Paul Revere's famous ride where instead of warning about the British, Intel warned about the future. "The future is coming! The future is coming! The future is coming."
Today, the future finally arrived with Intel's delivery of a new dual-core server processor meant for dual-socket systems. This new Xeon chip fixes some very pressing problems for the world's largest chipmaker. Customers can now feel safe buying server chips from Intel again.
"We are back in a position we are used to being in and that is undeniable leadership," said Intel VP Tom Kilroy, during a press conference.
As you can tell, Intel isn't underselling its own accomplishments. And why shouldn't it?
The Xeon Processor 5100 series processor - aka Woodcrest - is a minor miracle. Intel managed to catch up to AMD's more elegant Opteron processor design by reworking the hell out of past designs to create an energy efficient chip. Then, where old-fashioned engineering didn't do the trick, Intel just slapped on an ever-swelling cache to its processor to make up for performance problems.
The end result is a chip that looks to trounce Opteron on benchmarks in the near-term and to at least split benchmarks with Opteron once AMD gets a new version of its server chip out the door. So, Intel has delivered the future that it promised for so many months, as customers abandoned it for AMD's better performing gear.
No Tier 1 server vendor could he happier to see Intel ship the new Xeon than IBM, which has spent hundreds of millions on engineering a chipset for Intel's products.
IBM today unveiled its "Woodcrest" lineup, starting with the HS21 blade server. The "ultra-slim" system is really just the same as the HS20 but with Woodcrest inside. It will start at $2,159 when it goes on sale in August.
Also shipping August will be the System x3650 starting at $2,119, the x3550 starting at $1,869, the x3500 starting at $1,809, the x3400 starting at $1,019 and the z Pro Z30 workstation starting at $2,169. Overall, IBM expects some systems to show up to 90 per cent better application performance and up to 163 per cent better performance per watt than the boxes running on Intel's janky older chips.
HP has one-upped IBM by delivering its Woodcrest gear today. Starting prices for the new HP kit run as follows: ProLiant DL140 - $1449; ProLiant DL360 - $2249; ProLiant DL380 - $2449; ProLiant ML150 - $899; ProLiant ML350 - $1699; ProLiant ML370 - $2399 and ProLiant BL20p - $2229.
HP's new C-class blades will ship with Woodcrest in mid to late July.
Ever upfront, Dell announced that its new Woodcrest gear is "now available." In reality, however, you can only order the hardware now. It ships on July 17.
The PowerEdge 1950, 2900, 2950 and 1955 blade servers start at $1,898, $1,848, $1,948 and $1,848 respectively. The Precision 690 and 490 workstations start at $1,779 and $1.529.
Intel's Kilroy vowed that "this will be the fastest DP (dual-processor) ramp in our history," and HP seems set to lead the charge for Intel.
Sponsored: Minds Mastering Machines - Call for papers now open