Nokia N80 3G phone
Wi-Fi, 3G and three megapixels
Why you'd use it with the N80 is another matter. I was disappointed with the quality of the pictures it produced. At 3Mp I expected the camera's picture quality to be a lot better. It didn't matter much if I switched to the macro mode for close up shots. There are plenty of shooting modes and a built-in LED flash allows for shots in darker conditions. You can also shoot video at a maximum resolution of 352 x 288.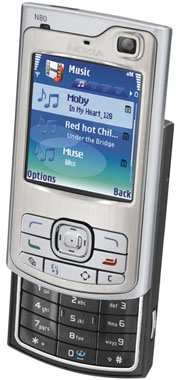 Apart from the photo add-on, Orange has left the N80 quite unscathed, at least compared to some other devices that tend to get a complete makeover.
There's a wide range of other standard applications, like a voice recorder, a notepad, a unit converter, a calculator and a calendar. Add to this the inclusion of an instant messaging client, a blog application, a couple of games and the QuickOffice tool for reading and editing Microsoft Office files, and the N80 offers a fairly substantial collection of pre-installed software.
I have to give the multimedia button a quick mention, as it plays a little sound once pressed and brings up a dedicated menu which gives you quick access to the FM radio, the music player, Orange Photography and the web browser. Not the most useful button I've come across on a phone, especially as you can have most of these functions on the standby screen anyhow.
Voice-call quality was very good, although I didn't get a chance to try out the video call quality, due to a lack of friends equipped with video phones. The front-mounted camera is of VGA resolution and should offer good enough quality for video chats.
Orange doesn't offer the N80 for free, which is rather unusual even for a high-end phone these days, so expect to fork out £50 if you intend to procure one.
Verdict
The Nokia N80 certainly packs in the features, but many of them aren't implemented as well as they should, or are ideosyncractic. Fans of Nokia phones will appreciate the N80's looks, and consumers seeking a non-Windows Mobile device that nonetheless does Wi-Fi should take a look too. But while the N80 is a solid enough product, it fails to excite. ®
Sponsored: Minds Mastering Machines - Call for papers now open

Nokia N80 3G phone
The N80 has the features, but it's quirky and the camera's weak. Uninspiring...
Price:
From £50, depending on contract RRP