Nokia N80 3G phone
Wi-Fi, 3G and three megapixels
I wasn't too impressed by the supplied headphones' audio quality, but as it is a combined headset I can forgive Nokia to a degree here. I'm not so sure about the over-the-head fit, but this is more of a matter of personal preference than bad design. There's a rather large piece of plastic which houses the microphone, but this appears to end up on your chest, too far away from your mouth in my view. There are an answer button and volume controls on the right-hand side of the dongle. The headset connects to the N80 via the Pop-Port.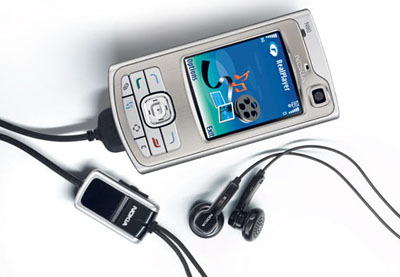 Now, if you'd rather not use the supplied headset, then you'll be glad to know that Nokia bundles a 3.5mm audio jack adaptor with the N80. What I don't understand is why there has to be a rather large square bit of plastic around the round 3.5mm socket. You can connect any pair of headphones to this, but you won't have the ability to answer phone calls this way.
A charger is also supplied, but this is a new type of connector which is smaller than the traditional Nokia chargers. Fortunately, some genius at Nokia came up with the clever idea of supplying a small adaptor that allows you to use an old Nokia chargers with the N80.
Network providers like to customise their phones, and Orange has added a few extra features to the N80. The Orange Photography add-on is actually quite a clever feature, at least on a 3G phone with a decent camera. It allows you to upload your snaps to an online gallery and also order prints. Orange supplies a 30-day trial and you even get the first few prints free of charge.