Nokia N80 3G phone
Wi-Fi, 3G and three megapixels
As I mentioned at the start of the review, the N80's Wi-Fi implementation is quite different to that of any other device I have used as you can't disable it. Yes, you read that correctly: there is no option to disable the Wi-Fi radio in the N80. Even the manual says so. You can prevent it from searching for new access points, but you still couldn't use it on board an aircraft. The impact on the battery life is hard to judge, but it doesn't seem like having Wi-Fi enabled at all times does too much reduce to it.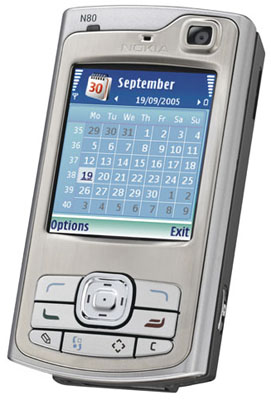 Setting up Wi-Fi connections is quite easy as long as there's an open access point, but once you have to enable encryption and so forth, it gets tricky due to the lack of a proper keyboard for entering SSIDs and WPA passwords. The range doesn't seem to be as good as some other handheld Wi-Fi devices I've used.
With a reasonably high-resolution screen like the one on the N80, it's quite perfectly possible to watch videos on the train into work without going blind. To its advantage the N80 comes with RealPlayer and Macromedia Flash support, and it will also play MP4 and 3GP video files.
There's a wide support for audio file formats, something that is quickly becoming the norm with mobile phones. The N80 supports MP3, AAC, m4a, eAAC+ and WMA file, although there's only 40MB of built-in memory. As it happens, Nokia provides a 128MB MiniSD card, but this is still not enough for anyone serious about music or video content. If you grow tired of your music collection, there's also an FM radio with Nokia's Visual Radio interface.
Sponsored: Minds Mastering Machines - Call for papers now open