Nokia N80 3G phone
Wi-Fi, 3G and three megapixels
The N80 is available in two colour schemes: Smooth Stainless or Pearl Black – although Orange currently only offers the Smooth Stainless version. One problem with using fancy materials like stainless steel is that the N80 collects fingerprints like nobody's business and the colour of the metal will change with age. However, it does look rather smart compared to silver-look plastic.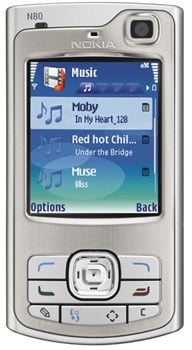 Just below the screen you'll find the top half of the keypad: a four-way navigation pad which is depressed to make selections, two soft keys, call make and break buttons, and the Edit, Menu, Multimedia and Clear buttons. On the bottom right-hand side of the phone is a dedicated camera button, which also launches the camera application. As with many Nokia phones the power button is on the top of the N80 alongside the IrDA receiver. Finally, on the left-hand side, is a slot for MiniSD cards, a standard I prefer to the various MMC formats Nokia has used in the past.
What I did miss though is a set of volume buttons, as you have to use the navigation pad to increase the volume once you've started a call, which I found annoying but will be familiar to long-time Nokia users.
The N80 used Nokia's de facto standard Pop-Port connector, but at least it supports full USB 2.0 speed which makes transferring files and music painless. However, I had some major issues with getting the Nokia PC Suite to play ball. The version on the CD wouldn't install properly and the downloaded version wasn't agreeing with my computer for one or another reason, so the phone wasn't detected properly by Windows.
Luckily, if you only need to transfer a few files across you can turn the N80 into a USB mass storage device. It also supports PictBridge, which allows you to connect it to a compatible printer - I had no issues using it with my Canon i865 printer. The N80 even detected the printer model correctly and the print quality was quite acceptable.
You can also connect the N80 over Bluetooth to a suitable printer, or any other Bluetooth 1.2 compatible device you might own. The N80 doesn't have support for stereo audio, which is something of a disappointment considering that many other new phones do. The N80 also supports UPnP, and you can share files with a PC or another Wi-Fi enabled device this way. You can even stream video, images and music from the N80 to another UPnP device.