Matrox ships four-panel display card
Thin-client friendly
Matrox has begun shipping its four-screen graphics adaptor. The part is pitched at back-to-basics PCs that act as display and input terminals for apps running on a server. It expects the device to appeal to trading rooms and other financial institutions that favour multi-screen rigs.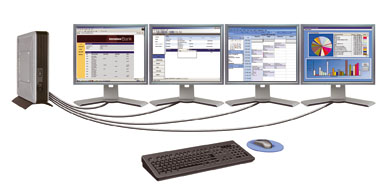 The EpicA series comprises the TC4, TC2 and TC2 Lite adaptors which support four, two and two monitors, respectively. The TV4 runs at up to 6,400 x 1,200, the TC2 to 3,840 x 1,200 and the TC2 Lite to 2,560 x 1,024.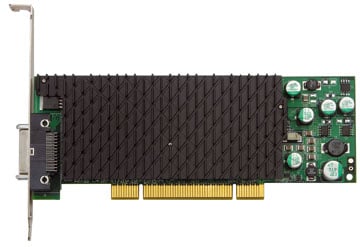 The horizontal pixels are, of course, mapped across all the connected panels, with the exact placement of the vast virtual desktop handled by Matrox's PowerDesk EpicA software, which like other apps runs on the server, whether the host is a Windows, Linux or Citrix box.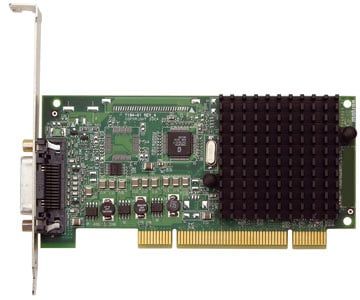 Matrox did not provide pricing - it's presumably leaving that to the system integrators and VARs it hopes will offer the technology to their enterprise customers. ®
Related reviews
PowerColor X1900 GT ATI-based graphics card
ATI Radeon X1800 GTO vs Nvidia GeForce 7600 GT
Ageia PhysX physics accelerator chip
Asus EAX1600XT SILENT passively-cooled graphics card
Sapphire Blizzard X1900 XTX water-cooled graphics card
Sponsored: RAID: End of an era?