PowerColor X1900 GT ATI-based graphics card
Plenty of performance for under £200
But what really matters, as always with a graphics card, is if it will be fast enough for you to play your favourite games on it. Judging from the test results, ATI's Radeon X1900 GT is neck and neck with the GeForce 7900 GT from Nvidia, at least until you hit very high resolutions - 1,600 x 1,200 with anti-aliasing (AA) and anisotropic filtering (AF) enabled. The X1900 GT drops off very quickly when you hit high resolutions in comparison to the 7900 GT.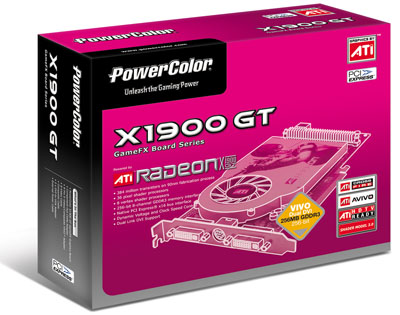 At 2,048 x 1,536, the X1900 GT is suffering badly. Enable AA and AF and it gets even worse. This is especially noticeable in Far Cry, where the X1900 GT is way behind the 7900 GT.
At more commonplace resolutions, the X1900 GT is ahead, just. Oddly enough it's beaten by the 7900 GT at F.E.A.R. until you enable AA, but this is likely to be the result of specific hardware optimisations made by the developer. In Half Life 2, the X1900 GT is back in front and the same goes for 3DMark05. 3DMark06 on the other hand is difficult to judge, as the 7900 GT is unable to run most of the tests. Still, Nvidia has the edge here all the way up to 1,600 x 1,200, but not by much.
The X1900 GT does have the advantage of being able to do High Dynamic Range (HDR) rendering and AA at the same time, something Nvidia's current generation of GPUs can't. So if this is an important feature to you, then the X1900 GT is the one to go for over a 7900 GT.
I do have one complaint with the ATI reference card and that's the standard cooler. ATI really needa to come up with a quieter design. During heavy load the fan runs constantly and makes a really annoying noise. But this is really the only fault I can find with the PowerColor X1900 GT taking everything into consideration.
PowerColor, akin with many of the other ATI partners, doesn't supply a lot of software with its cards, but you do get a decent accessory bundle. The X1900 GT comes with a DVI-to-D-sub adaptor, a component video breakout cable, a ViVo breakout cable, an S-video and a composite video cable, and a PCI Express power adaptor in case your PSU doesn't have one.
Although it's a close call depending on what game you're playing, the X1900 GT tends to be just that little bit cheaper than the 7900 GT. The PowerColour X1900 GT should retail for about £195 inc. VAT, although currently there seems to be a shortage of cards in the UK.
Verdict
If you're looking at spending in the region of £200 on a graphics card, you should definitely consider the X1900 GT. There's no real advantage between it and a 7900 GT besides the ability to run HDR with AA enabled and it really comes down to the type of games you're playing. It's really a buyer's market and you've never got as much performance for £200 as you do now. ®

PowerColor X1900 GT ATI-based graphics card
A very capable sub-£200 graphics card and a strong competitor for Nvidia's GeForce 7900 GT...