Akasa Combo multi-format memory card reader
Leave the adaptors at home
Review Memory card readers come in all shapes and sizes, and it can be a challenge finding the one you need.
Multi-format models tend to be the easy answer, but even then you can't be sure it supports all the memory cards you have. Fortunately, Akasa has come to the rescue with the Combo card reader, that not only supports most memory card formats, it does so without needing any additional adapters.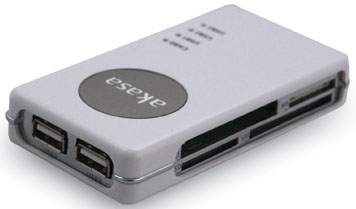 The front of the Combo has slots for Compact Flash Type I/II cards - including Micro Drives - Memorystick and Memorystick Pro as well as the Duo versions of both formats, SmartMedia - but not xD - SD, MMC and miniSD. The miniSD cards share the same slot as the SD/MMC slot, but are inserted with the connectors downwards whereas the SD/MMC cards are inserted with the connectors upwards.
On the right hand side is a small slot for microSD or TransFlash as the standard was known. To make the Combo slightly more appealing, Akasa also added a three port USB 2.0 hub, with two ports on the left side and one around the back.
The PC interface is a mini USB 2.0 connector and a suitable cable is supplied. There's also a 5V power input and Akasa supplies a power adaptor in the box with the Combo. This is great if you need to power devices from the USB hub and it puts less of a strain on your USB port on your PC if you attach multiple devices that draws a lot of power. To protect the Combo from scratches if you want to carry it around with you, a small imitation leather carrying pouch is also supplied.
The Combo is available in three different colours which Akasa describes as "midnite black, polar white and dragon red". On the top of the Combo is a set of four LED lights which indicate if there's a card inserted as well as which USB ports are in use.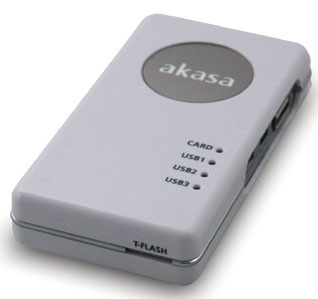 The build quality of the Combo is as good as you'd expect for £16 - it's not bad, but it flexes quite a lot if you squeeze it around the middle. Performance is dependent on the type of memory card you're using, so this will vary depending on the formats and speed of the cards you use.
Verdict
If you need an affordable multi-format memory card reader with a built in USB hub, the Akasa Combo is well worth a look. There are many competing products out there, but most of them require you to use an adaptor with mini and microSD cards, which are becoming commonplace in mobile phones.
Sponsored: Minds Mastering Machines - Call for papers now open

Akasa Combo multi-format memory card reader
An affordable multi format card reader that doesn't require you to have adaptors for the newer types of memory cards.