Sony engineers in shock Post-it® notes discovery
Misses April Fool's Day by 10 weeks
Sony has launched two new TFT displays with a unique new feature - the bottom bezel is extended to form a surface where you can keep Post-it® notes.
You also get a groove which can accommodate pens. It is a mystery why they didn't go the whole hog and include a hand filing cabinet and somewhere to keep your sandwiches.
Sony Europe display marketing manager Yoshiro Honda said: "Post-it® notes have become an everyday part of life both in the office and in the home. Sony engineers noticed that people often stick them to their computer screens as reminders - a habit which persists even in this electronic age - and so designed a computer display with an integrated area specifically for Post-its®."
We have no idea how you pronounce ® in regular speech.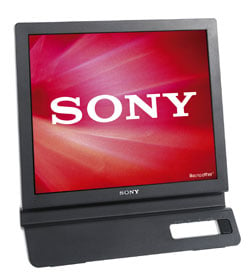 Clearly, this idea is barking mad, but it does mean that Sony has generated press coverage for two displays that are quite mundane. The 17-inch SDM-E76D has a resolution of 1,280 x 1,024 with 300cd/m2 brightness, 600:1 contrast ratio and 8ms response time while the 19 inch has the same 1,280 x 1,024 resolution, 300cd/m2 brightness and 8ms response, however the contrast ratio is higher at 700:1
The official link for aficionados of sticky yellow notelets is here. ®
Sponsored: Minds Mastering Machines - Call for papers now open