Adata shows solar powered USB memory key
At least, it powers the LCD screen
Computex 2006 So you'd thought there wouldn't be any new ideas for USB memory keys...think again.
Adata showed off a solar powered model at Computex, though the solar cells only power the small LCD display - but as this only draws tiny amounts of power to show you how much capacity you've got left, there's no need for a battery.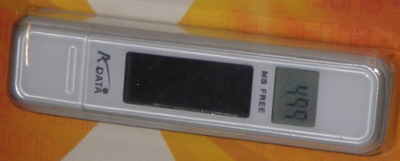 Besides the solar powered display, there isn't much to this product - it's available in sizes from 128MB to 1GB and should be available shortly.
Adata was also showing a similar device using an electronic paper display. This model also shows a small pie chart graph and digital representation of how much space is left.
Finally, Adata had a model with a built-in USB sound card that ships with a retractable headset. This allows you to have a VoIP solution alongside your USB memory key, as long as you're happy to carry a small headset around with you as well. ®
Sponsored: Are DLP and DTP still an issue?