Philips, Lite-on, BenQ prep Blu-ray drives
August debut for Europe
Computex 2006 Philips this week launched its first Blu-ray Disc drive, and was quickly followed by Lite-on and BenQ. Both the Philips and the Lite-on models are due to ship in the UK in August, the two companies said separately.
Philips' TripleWriter SPD7000 internal PC drive supports both single- and dual-layer media - 25GB and 50GB, respectively - in both write-once (BD-R) and write-and-erase forms (BD-RE). The drive connects to the host PC through an internal Serial ATA port.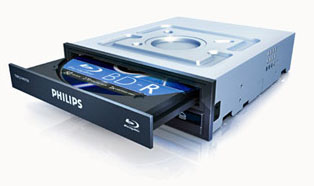 Lite-on's alternative is the LH-2B1S, and it should be capable of working with BD-R and BD-RE media in single- and dual-layer forms too. Like the SPD7000, the Lite-on drive will also burn DVD±R/RW discs and CD-RW media.
BenQ's BW1000 drive was also described by the company as a "triple writer" - it too will handle all the Blu-ray versions, along with DVD±R/RW and CD-RW media.
Philips said it expects its drive to retail for around £550 in August, the same month the Lite-on product is due to ship. Lite-on did not reveal how much it will charge for the drive, and BenQ kept mum on both pricing and availability. ®
Full Computex coverage at Reg Hardware
Sponsored: RAID: End of an era?