Dell eyes chocolate cake as image booster
Does frosting make our performance look better?
What does a smart hardware vendor do when it's being knocked around by the press for poor recent performance? Throw a birthday party for a prominent journalist, of course.
Yes, Dell and its OutCast Communications public relations agency pulled out all the stops this week for Wall Street Journal power broker and editor Don Clark. The companies plied Clark and other reporters at a Dell party with a chocolate birthday cake, champers and assorted cocktails. As we pointed out last month, journalists respond much better to food and drink than they do to trinkets.
One can only imagine how much OutCast billed Dell for the effort required to order, pickup and cut the cake. We're not sure the tactic fits into Dell's recent cost-cutting agenda.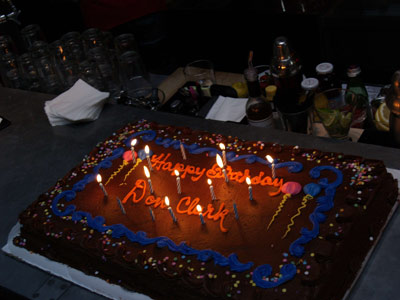 Don Clark turns sixteen: Pic - John C Dvorak
Dell has been pounded by analysts, reporters, customers and rivals in recent quarters. The company's first quarter profit, in fact, fell 18 per cent due to competitive pressures.
We would have scarfed down some of the cake too, if our invitation to Dell's party had not been sent to one of our software staff. Your reporter has only been covering Dell for the better part of this decade, and mistakes happen. Of course, it's unclear who received our invitation to be briefed on Dell's new line of servers. We think that went to CNET.
Anyhow, let this trite piece serve as an apology to our more than 4m readers for not delivering Dell news to you in a timely fashion. Dell has done so well in Europe over the years that it certainly doesn't need our help. Still, we'll do the best we can and push out news as the carrier pigeons trickle in from Texas. ®
Sponsored: Minds Mastering Machines - Call for papers now open