BPI urges Apple to open iTunes
'Nice iPod you've got there. Shame if anything happened to it'
The British Phonographic Institute has called on Apple to make its iTunes DRM compatible with other music players.
It's one of a number of points put before the House of Commons Select Committee for Culture today by representatives of the organisation, including chairman Peter Jamieson. Many of the others you've heard before: extend copyright to 90 years, close down the Russian download site AllofMP3.com and carrying on suing.
Jamieson didn't put it quite like that, of course. The BPI promises that, "we will not sue you for filling your iPod with music you have bought yourself".
US readers may find that an odd sort of concession - but the 'fair use' of ripping your own CDs has never existed in UK law.
However, the BPI also indulged in a little revisionist history before ministers.
"Traditionally the recording industry has turned a blind eye to private copying and has used the strength of the law to pursue commercial pirates," Jamieson claimed.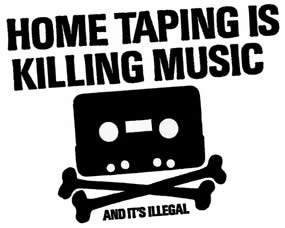 Which means that the advertising campaign recalled above is either a figment of your imagination - or a maybe a typo. Perhaps the BPI was warning against 'Home Stapling'? Careless stapling has killed many a vinyl long player.
Independiente label boss Mark Richardson complained that digital distribution was proving more costly than physical CDs. The internet was supposed herald an era of "disintermediation" - but there seem to be more go-betweens than ever.
The real losers? You can probably guess. ®
Sponsored: Minds Mastering Machines - Call for papers now open